Supermarkets in the 1970s
Supermarkets in the 1970s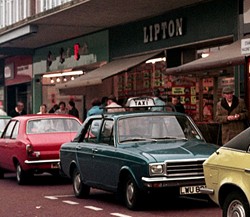 How many of these supermarkets from the 1970s are still around today? How many do you remember?
These are some of the supermarket and grocery chains from the 1970s:
Allied Suppliers (Liptons)
Asda
Batemans - South Wales & West England
Co-op
Fine Fare
Gateway
David Greig - London & South England
Hintons (Amos Hinton) - North East England
Gem Super Centres (part of Asda)
Grandways (part of William Jackson)
Jackon (William Jackson) - Yorks, Lincs, Notts
International Stores
Key Markets - South England, Midlands, Wales
Low (Wm Low) - Scotland
Mace
Mac Fisheries and Mac Markets
Marks & Spencer
Moores Stores
Pricerite
Safeway
J Sainsbury
Tesco
F W Woolworth & Co
Spar
Vivo
Mace
Kebby's Supermarkets (Unigate)
VG
Waitrose
Woolworth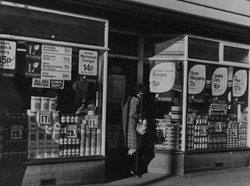 Some of these chains traded under a variety of different local names. These are a few examples:
Allied Suppliers Ltd
Allied Suppliers' main brand was Liptons. They also sold Sunshine, Beach's and Jaunty products.
Their store names were:
Maypole
Andrew Cochrane
Galbraith's Stores
Home & Colonial Stores
Lipton
A Massey
R & J Templeton
Broughs
Vye & Son
Markdown
Presto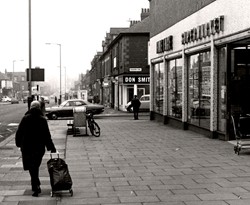 Fine Fare
The Fine Fare stores included:
Fine Fare
Coopers
Pay-Less
Elmo Stores
Waterworth Bros
Welwyn Department Store
Hodgson & Hepworth
Blower Bros
J C Carline
William Cussons
Buywell
Forrest
Hudson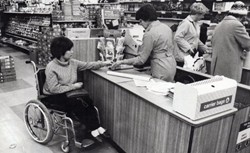 International Stores
International incorporated the following other trade names:
Ridgways
Payantake Stores
Kilby
Kibby's Granville
Mason
Pegram
Orme
Key Markets
Key Markets also traded as:
Barrows
World's
Walkers
Green & Dyson
Hale
Moores
Moores also traded as:
Pinks
Gallons
Gowers & Burgon
Thrift
Hay
Thompsons
Seymour Mead
Farrands
Peglers
References
The information on this page was mainly compiled from :
'Where to buy groceries' published by The Consumers' Association in 'Which?', November 1971 pages 324-330
'Buying groceries' published by The Consumers' Association in 'Which?', November 1972 pages 329-336
Add your comments
Comments
Wallis Supermarkets (FJ Wallis Ltd), based in Rainham, Essex, were among the best and most successful in London and the south east until the company (then with about 100 stores) was acquired by International Stores Ltd in 1977 following the accidental death of founder Francis Wallis in a plane crash a few years earlier. The firm was efficient, highly profitable, an excellent employer and way ahead of its competitors in many respects.
Chains in the North-East, in addition to Walter Willson (note the double L) and Hinton's, does anyone remember L & N Stores, a/k/a L & N Supply Co. a/k/a London & Newcastle Tea Company? It would appear L & N Stores were in some way subsumed into Fine Fare during the 1960s, but they still had a few branches on Tyneside until the 1980s. Would be interested to hear if anyone else has come across L & N or remembers this brand.