Menswear chains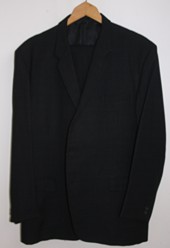 In the 50s and 60s the average man bought a new suit every couple of years, and in 1965 the menswear industry sold thirteen million suits. Most of these were bought at one of a number menswear chains which were common on Britain's high streets in the 50s, 60s and 70s.
The most well known and most prolific was Montague Burton, which still exists today as Burton. However, changes in tastes mean that formal suits make up only a small proportion of the what the chain sells today.
On a 1960s high street you might find one of these shops below, listed in order of the number of stores they had:
Burton
John Collier (originally Fifty Shilling Tailors) [rebranded as 'Collier' in the 1980s and closed in 1985]
Hepworth [converted to Next Stores in 1984]
Foster Bros
Greenwoods
Bradleys
John Temple
Alexandre
Neville Reed
Dunn & Co [closed 1995]
Willerby & Co [more of an upmarket tailor]
Smart Weston
Weaver to Wearer
George Doland
Jackson [owned by Burton]
Meakers
Harry Fenton [a favourite Mod label]
Brooks Bros
Peter Pell
Hector Powe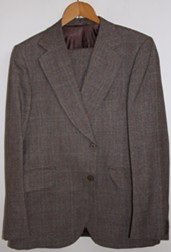 Very few of these shops still survive today.
Burton was by far the largest chain. In 1965 there were 511 Burton Tailoring shops in Britain. Sir Montague Burton founded the empire in 1900 with one shop in Chesterfield and the ambition to bring made to measure tailoring to the man in the street. He succeeded and the business prospered.
The second largest chain was John Collier. There were 331 John Collier stores in 1965. John Collier had a similar history to Montague Burton. It was founded by Sir Henry Price in 1907 also trading from just one store at Silsden in Yorkshire. He traded under the name of Fifty Shilling Tailors. In 1953 the giant United Draper Stores Limited acquired Fifty Shilling Tailors and changed the name to John Collier. Collier was sold to Hanson in 1983 and finally to the Burton Group in 1985, which then closed its rival.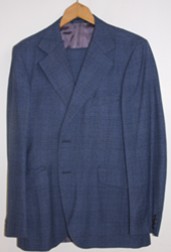 Buying a suit from one of these shops was not quite what you might imagine. There was no tailor actually working in the shop.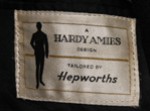 You came in to the shop to be measured by an assistant. The process took about half an hour, after which the sales assistant sent the measurements to the factory which manufactured the suit. You then went back to the shop for a fitting a week or two later. You tried on the suit and agreed alterations with the sales assistant. There could be two or three fittings and the whole process could take six weeks.
The factory was an important part of the model and the economies of scale allowed Burton, Collier and Hepworth to offer good quality suits at very reasonable prices. In 1967 Burton employed 20000 people in its tailoring factories and shops.
How much?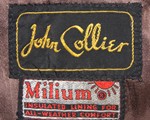 A suit from Burton's cost £17 10s (or £17.50) in 1966, about £225 in today's money. You would struggle to find a made to measure suit for that price today. If you went to a more upmarket shop in the 1960s, such as Austin Reed or Simpson, you would receive a traditional service, with several fittings. You would pay considerably more for this, around £50, or £640 in today's money. The end product, according to Which? magazine, was only slightly better.
Suits from Savile Row tailors were cut more generously and offered a slightly better fit than those made by the high street tailors. But Burton was only slightly behind in terms of the quality of material and wear.
Sources
1. Which? report on Men's Suits (9 September 1966)
2. The Monopolies Commission - United Drapery Stores Ltd and Montague Burton Ltd - report on the proposed merger (September 1967).
See also
By Steven Braggs, April 2013
Add your comments
"Dear Steven Braggs: Can you provide any photos of George Doland shops? I believe his main shop fitting contractors were Courtney Pope, but there appears to be no archive of their work. I will be very grateful for any help or leads to information.
Yours faithfully,
M G Doland" Michael George Doland 17/03/2014
"Dear Mr Doland, Sorry I don't have any pictures of the George Doland shops. It is very difficult to get pictures of commercial premises from this era. I tried to email you, but the email address you gave bounced. If you want to get in touch with me direct, try steven@retrowow.co.uk

best regards" Steven 20/03/2014
"Dear Steven, An excellent article on the the menswear industry during the 50s, 60s & 70s. It brought back memories of several made to measure suits - 2 & 3 piece I bought from the Burton store opposite Turnpike Lane underground station North London.

Interestingly I have just inherited a three quarter length John Collier overcoat - it belonged to my wife's late grandfather and as far as we know it has never been worn. Fairly thick, heavy wool material and dark charcoal in colour. Will be well used during future winters.

Once again, congratulations on an excellent article.

Regards William Gibbings" William Gibbings 26/03/2014
"Thank you for this article - my other half has just purchased a vintage 'Weaver to Wearer' jacket and it's great to be able to place an approximate age on the piece!
Kind regards, P x" Porcelina 21/04/2014
"John Collier was previously branded the 50 shilling tailors (£2.50) that sum at the time was equivalent to a working man's weekly wage and the suit could be ready made or made to measure. In real terms then the cost of a suit in real terms has decreased to a quarter of a working man's wage as you can at a push buy a suit at £60." Paul Motley 09/05/2014
"Although you would be hard pushed to find a made to measure service for £60 today!" Steven 11/05/2014
"Hi Steven
I entered the Menswear trade in 1967 working for Hope Brothers.The main store was Ludgate Hill London and branches in most major cities. Hope Bros started in 1880s even made some of the 1st England shirts. They were taken over by GUS in the 50/60s and added there empire which included many of the chains you mention. In 1970s many of the Hope Brothers group stores were converted into Just Pants Plus one of the 1st Modern Fashion groups on the high street." Peter Pearson 09/11/2014
"Having just submitted a thousand word piece on my early working days at Hope Brothers in 1948 I have found some of this information very nostalgic. I was at my shop for seven years, first as junior cashier and then as assistant in charge of ties and collars. They don't have shops like that any more." Geoff Gooding 19/01/2015
"I worked for Willerby tailoring in the '70's at the Croydon, Tooting and Streatham branches....in 1974, in lieu of a pay rise for that year, they allowed us to choose an item of clothing up to the value of £50.....I chose a rope strip suit priced at £49.99......although the quality of the suit is as good as when I chose it I'm afraid the quality of my body hasn't matched it and I can barely fit one leg into the trousers....so good was the in-house training at Willerbys in those days that they are still the standard by which I measure the quality of a suit...." john barron 26/02/2015
"Hi Steven
I have a complete 3 piece linen mix suit by Design Circle / John Collier, cheeky question but any idea if it's worth anything?
Many thanks in advance, Jo." Jo Panks 25/03/2015
"These vary quite a lot in price. From a dealer anything from £50 to £100. On eBay you might get from £10 to £50. Try buy-it-now to get the best price. Not only does someone have to like the suit, but it has to fit them as well. Best regards" Steven 25/03/2015
"Great reading. I worked as a Junior at the Bromley branch of George H Lavey fron 1958-60... at that time Lavey's ran a reasonable size menswear group of fashionwear. Tern shirts £2. Y fronts 6&6. Lambswool Pringle Botany wool Vnecks for 50 bob. Strads suits £15-£20.Strads all wool Cav twil trousers 5 gns. (Straddler's 50 bob) Sport Jackets £7-£10.Bulgarian Baby Lamb(Sheepskin) coats walked out at £20. oh yes... Fantastic Italian knitwear expensive at & £7-£9 sold like hot cakes." Roger Dulson 31/03/2015
" Interesting photo of Geo H Lavey flagship store cutting a dash in Oxford Street W1 in early 60s. Google... RIBA50503" Roger Dulson 03/04/2015
"Yes that's a great picture. Tailors shops just don't look like that anymore." Steven 03/04/2015
"Hi Steven
Would you have any history on"Meakers" of Piccadilly, my grandfather worked there in hosiery and died in the blitz outside Meakers as a watchman in April 1941, very little is known about Meakers other then he worked 15 years there.
Thanks Stephan" Stephan Taylor 20/04/2015
"I worked for the Shirt Co.in the 60's, we joined up with, Noel Bros, Harry Fenton & Smart Weston but how things have changed! I agree about the decline in the use of suits, it's the same here in Australia where I have lived since 1969. Menswear retail is a different game now but I did enjoy my time as a window - dresser in the UK (and later here). Many thanks for the memories, regards, Peter Perryman." Peter Perryman 19/05/2015
"Dear Stephan Taylor
My Dad worked for Meakers until it closed down in 1978. I also worked there as a Saturday boy for the last 2 years and was made redundant shortly before my 18th birthday before leaving school! They had something likely 50 branches in the home counties. Dad managed a few branches, finishing in Harrow. I worked in Watford. I'm afraid that your grandfather's era was before my Dad who was only born a few years before your grandfather's death." Peter Loose 25/05/2015
"Hi Roger Dulson, not sure of the dates but I was with Laveys for a short time as a window-dresser, Ron Saxton (now passed on) was the Manager. Later we worked together at Harry Fenton in Oxford St. I recently got in touch with Dave Carty (another displayman) who also knew Ron well. Cheers, Peter Perrymaan." Peter Perryman 26/05/2015
"Hi Steven
Would it be possible to me in touch with Geoff Gooding to compare our histories of working for Hope Brothers. I worked in both of Nottingham branches (new and old), my finale branch was Eastbourne which I closed and it was turned into a Hector Powe
Regards Peter Pearson" Peter Pearson 04/07/2015
"I worked for Meakers from November 1973 till they closed in January 1978 .Shame not many menswear chains in the Southeast anymore ." Adrian Ives 12/07/2015
"Read some interesting comments today regarding men's outfitters SmartWeston My dad, Ted (or Jim) Price worked with them for a number of years.He was a window dresser.He worked in Clapham Junction(I think the shop was named Anthony Trent) He also worked in Romford Lewisham and The Trouser Shop in Regent Street London
Is there anybody out there who remembers him?C" Jan godfinch 15/07/2015
"Read some interesting comments today regarding men's outfitters SmartWeston My dad, Ted (or Jim) Price worked with them for a number of years.He was a window dresser.He worked in Clapham Junction(I think the shop was named Anthony Trent) He also worked in Romford Lewisham and The Trouser Shop in Regent Street London
Is there anybody out there who remembers him?" Jan godfinch 15/07/2015
"I worked for burtons for most of the 60s/70s and have some ver happy memories we use give out cups of tea during the busy Saturday's and staying behind after closing time checking the orders before posting them off I remember one customer we had to remake his suit and even though it was a perfect fit he wasn't happy . Inthe end we let him have the suit free .he was still not happy most of the time our customers were very nice to deal with this was the time when most of the lads wore suits very poperly was mohair . Just some of my memories . Peter smith" Peter smith 24/07/2015
"Hi
I worked at willerby in the 70's. The name john Barron seems familiar.

Graham Cooper" Graham Cooper 26/07/2015
"Hi Peter Perryman
Very interesting. I do remember Dave Carty, so that must have been around 1960. I recall he was an early'Mod'and had an interest in Politics. Lavey's display manager was Terry Ryan and the team were very good by the contemporary standards of display at that time." Roger Dulson 28/07/2015
"Hi Roger, I only worked for Lavey's for a short time, I did Southampton, Bromley and Eltham where I met Ron Saxton for the first time. I don't know about the UK nowadays but here in OZ the art of Menswear display is just about dead! Glad I don't have to work now although it was great whilst it lasted!!! Cheers, Peter." Peter Perryman 01/08/2015
"Hi Peter
Clothing retail & display is naturally a very different beast these days. Very few fashion private menswear shops; and those that do still exist fall into two categories- Classic top end, or Designer labels fashion. The old groups such Burton,Hepworth morphed into mid market casual clothing stores. Unlike the shops of 60s and before windows and shop fronts are without the arcades that used to 'lead' the customer into the clutches of commission hungry sales staff: All now is self select and laid back by comparison, store windows are all flush to High Streets that all look much the same. I am pointing out what will be much the same kind of picture as in OZ- I'm quite sure. Happy days! Cheers, Roger" Roger Dulson 03/08/2015
"Hi Steven
It is interesting to run through & try and time line the step changes that changed the wardrobes of the British male since the listing of Multiples & Groups that 'kicked off' your Blog. I have my own observations; any thoughts out there? Only those old 'Rag Trade' fogies, with a nostalgic- curious nature, will want to contribute, I'm sure!!" Roger Dulson 04/08/2015
"Hi Roger,
I can't contribute to your "time line" question as I migrated to OZ in 1969 (everything was going well with display when I left)!As you guessed, the "display" situation is virtually non-existant here although we do have a "proper" menswear shop about half an hour away. Unfortunately it's just basic windows (sadly dressed by the owner) but he does "proper"gear! Dinner's ready, got to go, cheers, Peter." Peter Perryman 05/10/2015
"Hi I was a display man for John collier in early 70s used to have an area and about 6of us did the rounds, one guy I worked with was pat turner in ipswich, it was great fun and I enjoyed doing the job, I actually was te first display an to get car mileage, 3p a mile, rather than take the train like others, after about 3 years I decided to go freelance, I traveled the uk earning a good living displaying clothing in lots of well known shops, I employed other freelancers, we made our own props, I even worked for Harry Fenton himself aka mark gable in his flagship store in London, I'm 61 now and miss those great shop window displays, I did very well and ended up in exhibitions, stand design and build. Wonder where all the display guys went. Best Steve" Steve reeve 07/10/2015
"Hi I worked started work for John Collier in 1984 and after approx 6 months they were re branded to a Sub brand called Smart Alex. Don't think there were too many of those. After they were bought by Burton it was turned into a clearance store and we used to get end of lines from Burton & Topman.
After that I crossed over to Burton and went on to be a Manager in Barnet, London Victoria, Oxford St ( Which is now part of the Top Man store) Aylesbury, Bedford and Finally High Wycombe." Paul Nolan 23/10/2015
"I have been searching for a Dunns Tailoring Shop now for a number of years and have finally found the sad news that they are no longer in business.
When I lived in Newcastle upon Tyne, I bought all my suits / jackets and trousers at Dunns exclusively and they gave me superb service, even remembering my style, colour preferences and inside leg measurements.
I moved from Newcastle to Cumbria and was delighted to find the English St. store in Carlisle and on entering, even more delighted when a voice rang out " Hello Mr. Morton !" It was my favourite assistant who had been promoted to the Carlisle store as manager. He still remembered my preferences and would 'lay by' anything he thought I would like -- and he was never wrong. How I miss that wonderful tailoring.
I never had a misfitting garment from Dunns.
Sadly I have never had a good fitting pair of trousers since they closed, apart from a very expensive McGee suit bought from the also now non existent " Campbell Brown's "
shop next door.
Thank you Dunns for many years of great outfits. ( I still have a Dunn's West of England jacket and trousers in superb condition. )
Now --- Where can I buy a decent pair of
cavalry twill trousers ?" Arthur S. Morton 07/01/2016
"Hello Stephen
I worked for Harry Fentons from May 1967 to May 1968 in Putney High Street, Gloucester Road and Chiswick High Road Stores. I earned the princely sum of £8.00 Per 5 1/2 day Week! As a young Teenager I benefited from the wide range of mod cloths especially the wonderful mohair trousers, Peter England Shirts etc. and the wide range of accessories in keeping with the 1960's pop culture. (Pink & Mauve Seersucker Shirt anyone!) I was never better dressed for the money than during that time as I had first choice of the new stock deliveries and also the generous staff discounts. I believe that year has given me good dress sense in what ever social setting and I have retained that passion for style and quality all throughout my life." John Cooper 11/01/2016
"I have retained a tie from my school boy days, which shows a beautiful lady on the front of the tie and a reverse on the tale of the tie.It is a Neville Reed Manshop Sheffield tie.
I obtained it new in around 1953 as a 14 year old, cost me 10/- shillings.
Still in very good order but requires some T.L.C. Can you provide some info on this tie and I am prepared to let this tie go to an interested home." Robert Peaker 14/01/2016
"I worked for the Weaver to Wearer chain at a branch in Scotland in the early 1960s.A made to measure Bespoke suit could be had for an amazing base price of six pound seventeen and six, the material wasn't up to much but the fit was usually pretty decent. The suits were made at a factory in Mabgate Leeds and took around six weeks to complete." Ian West 10/02/2016
"I spent the early part of my working life with various multiple tailors. The practice, at the time, was to dance from one company to another, for an extra pound or two a week. Full employment in the sixties. I worked for John Temple, John Collier and Hepworths. I'll never forget that when a customer requested an interim fitting we made a discrete note on the measurement form 'mock baste'. When the completed suit arrived at the store we covered it with white, long stitched cotton and tailors chalk. The customer came in for his fitting. We made several more chalk marks on the coat (not jacket) and asked him to return in a couple of weeks to collect the finished garment. The threads were removed the tailors chalk brushed and pressed out. Finished item! I also recall that when a customer complained that the coat was uncomfortable under the arm he was asked to return the following week, following alteration. The alteration? A knee in the arm hole and a good yank until you heard the stitching begin to give.
Happy days!." Clive Downs 26/02/2016
"Hi John Cooper, I used to dress HF at Putney (along with a good many other branches) by any chance was John Gray the Manager in your time there? John eventually left to work for Cordells who had shops in Slough, don't know if they still exist though! As many of the others on this website say"happy days"! Cheers from Peter Perryman." Peter Perryman 03/03/2016
"My first job after leaving school was at Willerby Tailoring Walsall my wages were £6.50 per week had some great times I worked for Willerby from 1969 until 1980.Afterwards I worked for Harry Fenton Topman and Burton managing different shops in the Midlands." Michael Lee 14/03/2016
"Burton were very famous for their High Street "presence" in lovely Art Deco buildings. Some people are trying to build a map - http://tinyurl.com/Burtondeco" Roger Boyle 02/04/2016
"My Father worked for Hope Brothers in Ludgate Hill in the 60s then I believe moved offices to Hackney. I remember him taking me to work there, then on to Lyons corner house Ludgate Hill. His Name was Ron Watson" Dave Watson 18/04/2016
"Hi just wondered if there is anyone out there who can Clarify that John Temples mens clothing /suits shopin the 70's was in the Shambles and John Justins in the high st?manager Philip Oliver...does anyone remember ?Philip would be about 67years old now" Hayley 20/04/2016
"In the early 70's I worked as Saturday sales (£2.75) in one of the three branches in Bradford. If we did not have a suit in the correct size, I would be sent for a branch transfer to one of the other stores to avoid losing a sale. The bonus system for managers and senior staff depended on the branch having a higher turnover that the same week in the previous year. About 2.30 on a Saturday, the sales strategy changed. If we were ahead, customers were encouraged to be measured in the following week. If we were behind then future Left on Hands (LOH) were created using the measurements of a member of staff. These could be bought at a knockdown price about two months later, also earning Commission. We also made joke LOH's long arms, pygmy legs etc which twice a year were brought out on the sale rails. we would snigger as sale customers tried these on. As double sales earned commission many customers were encouraged to have an extra pair of trousers made - one standard, one flared. Though there were about 40 designs shown in the style book, I soon learnt to offer just two styles, 7 for standard and 350 for a waisted flared style. It cut down on the choosing time, similarly one salesman only showed customers the '50' book which earned an extra 50p - they were all soon to be discontinued fabric. If you managed to sell one of the horrible nylon shirts in pastel colours that earned 5p - not much but it built up the wage. Fun Days" Jon 25/04/2016
"Happy Memories. I worked for both Montague Burtons in Beastmarket hill Nottingham and John Collier in several branches around nottingham/east midlands(on "Relief") in the 70s & early 80's. We used to hang around Alexandre's windows and get talking to people and drag them back to our branch. Memories bring a smile just thinking about some of the tricks we used to get up to to get a sale" Pete Dzirvinskis 26/04/2016
"Hi, I worked for Meakers at the Eltham High st. branch 1965 to 66. It was my first full time job and I loved working there. In the following years I became a Mod and had suits made to measure from Burtons. Great times." Peter Laker 29/05/2016
"I started work for Willerby tailoring in 1964, at there Basildon essex factory, is there anyone still alive that worked there?." allan cook 29/06/2016
"Just clearing out my late brother's wardrobe and found a classic Crombie overcoat with the Meakers of Piccadilly label. Was browsing to see how old it might be only to learn Meakers closed down in 1978 so it is truly vintage ...... but still in beautiful condition." Sheena C Brown 02/09/2016
"Wow Interesting to down memory lane . I worked at Meakers in 1970 on a working holiday from Australia . I eventually opened my own menswear store in 1986 & after 30 years ( 45 in the industry incl.London )it's finally time to give it a rest next year . I had a good mate Micheal Leader actor Lived in Mayfair . I see there is a Michael Leader Director in London . Could this be the same guy ? if any one knows him please pass on my regards .Graeme Handley" Graeme Handley 03/09/2016
"Hi can anyone tell me when John colliers factory closed down in Middlesbrough ???? Please" Karen robinson 13/09/2016
"i worked foe john temples in the 60/70s starting at jt19 richmond as a junior sales
and went on to work at victoria camden kingston victoria cheapside an finaly at putney
still have the dress sense that was drilled into you
great time miss the 50% dicount on the made to measure happy days" colin davis 16/09/2016
"Hi everybody,

Just stumbled across this forum as I am doing some research on my old school (Owen's in Islington) during my time there in the 1960s. The school's outfitter was "Hope Brothers" in Ludgate Hill and I remember being taken there to be kitted out in 1961. Does anybody who worked for them recall anything connected with providing the school's uniforms?" Jeff Owen 23/10/2016
"And there was Tom Martin Tailors too. They had many shops across Glasgow in the 1970's My dad, Frank, ran two of them. I worked in their Hamilton, Bellshill and Bridgeton branches as a lad." Ken Donnelly 07/11/2016
"Hi my father Ted Butterfield was the manager at Burtons Chiswick during the sixties and loved his time there, he is now in a home in Honiton Devon and still recalls his time there...." stephen butterfield 09/11/2016
"Hello Peter Perryman
Sorry but I can't remember the Managers Name at Putney, but he had an assistant who I believe was called Mr Duggon? The managers name at Chiswich was Eddie ?? (think it began with an S?
And I remember a Wimdow Dresser at Chiswick named Sid Collis (or Collins?) Big Fella. Larger than life. I can also see the window dresser in the Ladies Shop over the road. Famous for her very short mini-skirts! Eddie used to bet on the horses and I was forever running over to the bookies for him. Good times!
For the record, I left the trade and went into Engineering and Production Management.
JC" John Cooper 21/11/2016
"My grandfather worked in Leader Bros as a cutter for 30 years but I cant find any record of such a shop. Does anyone remember it.. or hearing of it? He may have started there around 1930ish." Janice Hobbs 02/12/2016
"Great article... certainly brought back so many memories walking down the High Street and passing all the branches of men's wear stores in the 40s / 50s and 60s.

When I was in my teens, in the summer, I was allowed to work in Willerby's Head Office in Tottenham Court Road... I did this for several years... I was lucky enough to have a connection in the company, my uncle,from my Mum's side, Joe Davidson was the MD of Willerby... My Dad's brother, Lou Noble was a director of 'Weaver to Wearer' and there was always friendly rivalry between the two brother's in law at family gatherings...

I wonder if anyone remembers either of my uncles?

Gosh, how the High Streets have changed over the last 60 years!" Clive Noble 05/12/2016
"I started at Burtons in 1966 as. Window dresser best job I ever had left in 1976 window displays were disappearing making way for in store displays l must one of the few who did an apprenticeship in ironing, still it had stood me in good stead lol" Ian Stevenson 23/12/2016
"Hepworth ,best suits ever,
I worked for them at Bromsgrove ,Redditch,Kidderminster. Brigenorth,
In 1955,we had to get men to. Have17"" bottoms (trousers)
The norm then was22 ""
Not easy,golden talisman was top of the range in bespoke tailoring" Michael wright 30/12/2016
"The Fifty Shilling tailors founder . Was he a Lord as I believe his wife lived in Wadhurst in East Sussex. Her name was Lady Malabadeely. Not sure of spelling." margaret lovell 16/01/2017
"Hi Margaret Lovel

The tailoring business in question was owned by Sir Henry Price: You might find this interesting.
http://www.culpepperconnections.com/archives/uk/places/wakehurst5.htm" Roger Dulson 18/01/2017
"Hi Margaret Lovell
Sir Arthur Price was the man who owned FSTs.

This will tell you the full story.
Google
' Southerby's to sell Sir Henry Price Collection'" Roger Dulson 19/01/2017
"Purchased my first suit in 1968 at Burtons on Chiswick high street, at the time I worked Saturdays and holidays at the Dolcis shoe store nearby. Incredible first time experience for a young lad believing he was purchasing a bespoke suit, only to find out later not the case. However i didn't care, great suit great fit, great times" k G Ramsey 21/01/2017
"Fascinating as well as sad to read about all these great enterprises which are no longer trading. I stumbled on this site whilst looking for any references to Willerby tailoring, as I own a fine wool and cashmere overcoat labelled as originating from their Regent Street establishment and wondered when it was made. I purchased it at a charity shop some 20 years ago for £5 and had it dry cleaned for a further £10. I wear it often when I visit the opera here in Bratislava where I often over-winter and the temperature frequently drops below -10C and more. Great for keeping the frost at bay when waiting at the tram stop!" Martin Hicks 23/01/2017
"I was a customer of George Doland in the 50s and paid £5 a month by bankers order. I tended to buy my suits from the shop in Victoria Street, London. I always ordered two pairs of trousers as working in an office they wore out quicker than the jacket, and a waistcoat with a long back. I still remember the day I ordered a tail suit having enough money to my credit to pay for it. For much of the time I was also an articled clerk with the Group's auditors so I also visited the factories where the suits were made according to the salesmen's measurements. Memories are remarkable things." Michael Rudge 15/03/2017
"My grandmother wrote 'My Life Story' in 1977 when she was 95. In it she writes 'My first job (in 1899) was at Waterlows a printing firm. There I stayed about a couple of years for the princely sum of six shillings per week. From there I went to Hope Brothers in the city and learnt to make men's ties.'. She lived in West Ham at the time." Margaret Mackintosh 31/03/2017
"I worked for Willerby Tailoring from 1975 - 1981 in Wolverhampton, Solihull and Walsall. I remember Mickey Lee from Walsall and of course John Wall. Great times." Mark Evans 09/04/2017
"I worked for Willerby Tailoring when I left school in 1971 at the shop in Leytonstone &, occasionally at the shops in Tottenham, Walthamstow & East Ham.
I remember, being the junior (well, there was only me & the Manager) being sent to Basildon to pick up a suit from the factory, a journey that involved underground, mainline & busses as I didn't drive at the time.
I also remember going on a measuring course in Chelmsford & on my return measuring a customer for two pairs of trousers which, when they arrived were more like three quarter length shorts! He was not best pleased." Tony Wheeler 08/07/2017
"Hi all very interesting, worked for Hepworths from 1976 (17 year old) till 1983. Started off in their Hyde (ches) branch moved to stockport as AM then to congleton as manager, I then moved back to Stockport when they opened a concession store in Debenhams (they had about 35 of these). The training at Hepworths was first rate,Sadly by 83 they were closing branches left right and centre after the took over Kendal rainwear and George Davies moved into convert the company to Next (which he almost bankrupted in its early years.) I moved into the greeting card publishing business where I stayed until poor health forced my early retirement. But I still look back at my days with "Heppys" as the happiest of my working life.
regards John" John Richardson 02/08/2017
"Hi John
Great to think you had a good time at Hepworths. A number of my old mates opened their own great shops on the strength of Hepworth experience in the 80s... and it must be said that George Davies cut a bit of a dash also in the Hepworth aftermath!" rogerdulson 04/08/2017
"More memories of working for Burtons in the 60s/70s. Rolling the sleeves when tiding the stock. Being the junior polishing the parka flooring once a month . the Director suit. The manager(mr. Sillitoe ) very knowledgable in tailoring and selling , if he got stuck chatting to a customer ,he would wave a hand behind his back so we could rescue him . He had a slipped disc in his back and if was playing up , would be seen laying flat out on one of the cutting tables in the basement" Peter Smith 04/09/2017
"Hi I first worked for Meakers in steatham in the late 60s /70s the as manager at the Epsom branch.I would like to trace the old manger of Streatham
his name was bill/William chessex." PAUL Baxter 23/10/2017
"Does anyone remember Edward Mitchell, manager of the Sheffield branch 0f Willerby's in 1950. And what happened to him after the demise of Willerby's." Arthur Jones 27/10/2017
"I worked in Burtons Oxford store on Cornmarket St around 1975 before joining the Royal Navy. I remember Mr Woods the manager a lovely kind chap - very proper and by his mannervprobably ex army but a great person to work for who had time for everyone . Other people I remember Paul and Graham .We could all earn good commission on suits ,shirts and extras and of course had good staff discounts.
Customers could be quite demanding but overall the reputation of Burtons made selling a pleasurable experience and was a very positive experience in my life." James O Grady 27/10/2017
"MARK EVANS @ WILLERBY TAILORING....
DON'T FORGET YOUR STINT AT ABERDEEN ... ??
HOW CAN WE ALL MEET UP, WOULD LOVE TO SEE BOTH YOU AND MICK !! Still in the force ?
JOHN WALL.B27 7PT" JOHN WALL 11/11/2017
"I was 15 and started in hector powe,s the factory was in high Blantyre my wages was £4 a week and the cheapest suit was £45 but it was real quality not the rubbish you get nowdays" robert carroll 07/12/2017
"I read with interest Arthur Jones post on 27/10/2017. I started as a junior at Willerby in Stevenage, the manager then was Len O,Neil who used to work at Sheffield shop, did you know him? He was in his 60s then and was very cross if you took a "swap"as his pension was based on his earnings in his latter years
I also worked at branches in Luton, Hemel Hempstead, Watford, St Albans Regent Street and Oxford Street, would be good to catch up with anyone who remembers me. Chris Cope" Chris Cope 16/12/2017
"Who remembers Harry Fentons Tailors. I brought a suit from its store in Grays Essex. It was a blue striped one and after about a year the stripes rubbed off,not too funny at the time, but a great memory of the drain pipe trousers and short Jacket, great days" john seston 07/01/2018
"I worked at MEAKERS in Epsom and occasionally in the South Croydon branch in 69 / 71. I remember going on a course in Kings Cross office to study fabrics. Unfortunately my memory re names is very hazy, however I do remember working in Epsom with a Chris, and at that time the manager I recall had a glass eye ! Does anybody remember names. Chris Boys 22/02/2018" Chris Boys 22/02/2018
"Worked for byrites in late 70s then went on to be a rep
Serving loads of stores baron Jon Winstons Bobby summers take six west fields Ozzie for men Harold ian stolen from Ivor many more" Shaun ellis 02/03/2018
"My father worked for George H. Lavey from the late 1940's until early 60's when he became manager of Harry Fenton's new shop in Eltham. His name was Walter Kimberley (Kim). He finished his career working at John Collier in Eltham & Bromley. I have a great photo of him taken inside Laveys either Woolwich or Eltham branch c1950's." Angela Smith 30/03/2018
"Yes, Jon, let's meet up. 07944888700." Mark Evans 22/04/2018
"Jon, get in touch. Wv5 8JE/2" Mark Evans 22/04/2018
"I worked at hope brothers in Ludgate hill and Oxford st in the early 70s I think the manager was a Mr Harris and his under manager was Fred and my mum worked in the offices as well" Don Penfold 25/04/2018
"Whatever happened to Alan Mosca? Manager of Willerbys, Wolverhampton in the 70's. He was crazy! He used to practice his drums in the storeroom. He played in a group called Dancetr, they were really good. He left to join Freddie and the Dreamers." Mark Evans 01/05/2018
"I will probably never see the Answer to my question as it was a fluke I got here What year did these companies go Bust. I Am one of these few ppl who would bring some of these back evan though I have no memory of them..I am 35yrs old to young??" Andrew Boff 27/05/2018
"I have recently bought a beautiful painting of John Temple's Outfitters and I'm finding it very difficult to locate where it was in Glasgow?
If anyone from Glasgow knows where John Temple was, it has a number 9 tram on the same road, please get back to me on elliecasson2@hotmail.com with the subject "John Temple"
I need to know where this painting was made!
Thanks!" Ellie Casson 12/06/2018
"My mum got me a job in Harry Fentons warehouse in Edmonton in 1968 and I went on to be a window dresser trained by Sid Collis,happy days. I also worked with Clive Breakwall dressing Oxford St.Shaftesbury Ave etc. My first window dressed on my own was Wembley High Rd. Great days,great company,and great clothes !!! Steve Stinton 24/04/2018" Steven Stinton 24/06/2018
"HiAngela Smith

As a lad who left school at 15 in 1958 I went for an interview as a junior at Lavey's Bromley. I was interviewed by your lovely dad and got the job.
Never was there a kinder manager,so encouraging at all times. I have the fondest memories of his stewardship and can see him in my minds eye even now. At break time i would bring his tea into the office, a smile and always a thank you... then he would roll one up with Golden- Virginia from his little round wooden case. How lovely that we remember such little details. Top guy was your Father." Roger Dulson 14/07/2018
"I worked as a relief assistant and worked in numerous branches I enjoyed those days" Ted Richardson 09/08/2018
"If anyone remembers anyone who worked as a display man at John Colliers in East Anglia in the 70s I would like to know . Cheers Steve Reev" Steve reeve 12/08/2018
"I was lucky enough to find a beautiful tweed overcoat today, in the vintage clothing market at Gloucester Green in Oxford.
It has the brand label 'Dhobi' in it.

The quality is outstanding, it's fully lined and the pockets are much better constructed than would probably be the case on a new overcoat.

It was the princely sum of £10.00!
Could this have been made by Meakers of Piccadilly?

If anyone has any information about the Dhobi brand, I would be most grateful to hear from you.

Thanks,

David Chapman, Oxfordshire." David Chapman 18/08/2018
"Hi David Chapman
Perhaps Ican throw a little light on your 'Dhobi'.

The Company 'Weatherlux' Ltd, Clegg Street Oldham, (now long gone like most UK made Clothing)made your coat.

The 'Dhobi' as I remember the brand in the Mid 60s was a very successfully marketed reversible raincoat/Topcoat sold into better end retailers.
You mention the nice finish and the fact that it is fully lined...could it be that your garment is reversible?

Roger." Roger Dulson 19/08/2018
"My mum was a seamstress in the 60's for Harry Fenton known as either Patricia Small or Smart does anyone remember working with her. Love to know." Paul Smart 13/09/2018
"In the early 60's I worked for a firm called Granville Ltd in Edmonton, North London. I seem to recall they were the head office for Harry Fenton and other shops, but they were in Northern England. It was a long time ago, but I have so many happy memories of my time there." Eileen Thornton 04/10/2018
"I worked s meakers from 1966 until they closed .started in lewisham and worked in verious shops up and down the southeast . I worked in the claims dept in head office for a long time too . For extra wages I worked on Saturdays mainly in the Kilburn branch love it" Keith hartfield 16/11/2018
"Just Stumbled on your site when googling about Hepworths. I worked at the Harrow branch sometime around 1976. The manager at that time was Ian Godfrey and assistant manager James Ansell. 1 was about 17 yrs old at the time. The best fun I ever had was the sales training that new salesmen got at the head office in Claypit Lane, Leeds. There were lads from all over the UK. We were put up in shabby hotels for a week but we had some great times at the pubs in the evenings. I would love to hear from anyone who remembers me. I was mainly based at the Harrow branch but also worked for a short time at Wembley and at Uxbridge. I didn't last long in the trade and left it around 1977 and went into printing." Tim Harrison 31/12/2018
"Alan Miscarriage left Willerby Tailoring Wolves to join Freddie and the Dreamers as a bass guitarist and singer.He is still in The Dreamers which you can follow on Facebook ! Best wishes to Mark Evans and John Wall who also worked for Willerby in the Midlands !" Michael Lee 12/01/2019
"The label on Burton suits I the 60s would have a letter in the bottom right hand corner , and this would indicate what factory it was made in. Such as. L was for Leeds the main factory. G was for Guisborogh. W for Walkden. J for Jacksons ,and so on" Peter Smith 21/01/2019
"Re Burtons again, The display suits. for the windows were specially made for that , and when the cloth of these models went out of stock they would be put into stock ,If you sold one of them they carried extra commission ,also if you were the size to fit these , at sale times they were 1/2 price, and you got a very nice suit , at a very good price" Peter Smith 22/01/2019
"I worked at both hope brothers and meakers in poultry and cheapside in the 60s and I am sure the mentioned bill chessex worked in meakers at the same time ." David Bronzite 23/01/2019
Comments
Interesting, Ian Fleming wore Fifty Shilling Tailors, mentioned in the book by John Pearson. Would be interested to know if anyone knew the one he shopped at? Guessing Kings Road. fromtailorswithlove@gmail.com thanks
Worked for Willerbys from 1961 to the closure period early eighties, originally Managing Portsmouth followed by Oxford street and then many years as Area Manager.
Very interesting to read the various Willerby,( Hope Brothers and Hector Powe )comments from ex employees, some names I do recall and certainly recognise some names mentioned in comments.Would be great to hear from anyone ,good chance that I would remember a number of people that you would have come in contact with
Hello Kevin, My name is Eamonn Kelly and I worked for Willerby from 1961 until the closures arrived in early 80's. I certainly remember the name Gerry Butler.Have just in the last couple of days stumbled across this fascinating site.As I was an Area Manager for many of these years fortunate of course to have visited very many stores and meeting up with wonderful people. Do you remember who your AM was in those days,
Yet another memory while working at Burtons one customer instead of the jacket fitting well around the neck , he wanted the collar to stand away from the neck ' , as worn by one of the t v celebrity's at that time ,and this we did and he was well happy , iam sure there be other memories that come to mind