How much has the high street changed since the 70s?
How much has the high street changed since the 70s?
I've often wondered how many high street names from the 1970s are still with us today.
To answer that question I took a walk down a typical high street, Terminus Road in Eastbourne, armed with a Kelly's Directory for 1972. My aim was to find out how many shops from 1972 were still there.
Eastbourne was a popular seaside resort in 1972. In the summer its beaches were packed with holiday makers. Things have changed a little today and like many UK seaside resorts it no longer has the same tourist draw.
Out of over 200 shops and businesses in Terminus Road, as per the 1972 Kelly's Directory, only seven remain: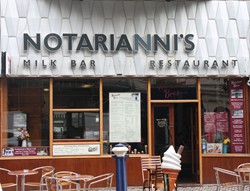 63/67 Barclays Bank
96 National Westminster Bank
104 Lloyds Bank
110 W H Smith
133-7 Marks & Spencer
195 Athens - Greek restaurant
203 Notarianni Bros - ice cream parlour
There would also be a Midland Bank in the list, but it has changed its name to HSBC. However, it is still housed in the same building.
W H Smith has changed with the times. Originally the shops had a lending library. Then it became Britain's high street book retailer and stationer. Smith's seems to keep the right mix of stock between newspapers, books, pens, sweets and chocolates. It is a great survivor.
M & S has struggled in recent years. It is no longer in the FTSE 100. But the shops are still hanging on.
The other two are independent Eastbourne shops.
Notarianni Bros is Eastbourne's oldest ice cream parlour and has been in business since the 1930s.
There is a vibrant Greek community in Eastbourne and the Athens Restaurant also has staying power. Although one of my favourites, the Taurus Steak House at 199, run by Greek Cypriot, Antonis Nicola, known locally as Nicky, closed a few years ago.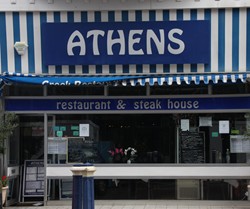 www.eastbourneherald.co.uk/news/tributes-paid-after-restaurant-owner-dies
Everything else has changed.
Looking at the shops from the 1970s.
Clothing and shoes
Tailors
21 Hector Powe
89 Burton
125 Meakers
128 George Brown & Co
132 John Collier (Prices Tailors Ltd) (closed nationally in the 1980s)
136 Alexandre
Tailoring chains specialising in made-to-measure suits were a feature of 1960s and 1970s high streets. Many of the well-known brands were represented in Eastbourne. Burton and Collier were the two most popular menswear chains. Both had branches in Terminus Road.
As well as those in Terminus Road, there was a Hepworth's at 16 Seaside. Hepworth's became Next in 1982.
The process of making a suit took several weeks from the initial measurements taken in the shop. Therefore, these shops were aimed at locals rather than holidaymakers. The stores all disappeared as ready to wear suits improved and the need for formal attire reduced.
Ladies fashion
17 Etam - the chain was bought by Sir Philip Green, Chairman of the Arcadia Group, and closed nationally shortly afterwards
79 Richard Shops - a national chain owned by UDS (United Drapery Stores which also owned John Collier) closed nationally in 1999.
107 Posner Gowns
118 Louise Cousins
127 Dorothy Perkins - national chain
161 Marie et Cie - fashions
184 Fanny (Eastbourne) Boutique
188-190 Leodian - costumiers
204 Irene Vanoc - gowns
254 Square One - boutique
Boutiques were a new thing in the 1960s. In the early 1970s they were big business. Holidaymakers with money to spend ensured Eastbourne had a variety of boutiques.
Richard Shops was a huge fashion chain in the 1970s.
Other clothing
192 Millet Stores (now at 146-148, which was J Lyons in 1972)
202 J R Charles - furrier
Shoes & boots
43 Milward & Sons
64-66 Russell & Bromley
68 Mansfield
70 True-Form (Freeman, Hardy & Willis)
71 Dolcis
81-83 Lilley & Skinner
93 Saxone
103 & 105 A Jones & Sons
121 S Hilton - bootmakers
134 Freeman, Hardy & Willis
142 W Barratt
236 British Bata Shoe Co (for more about the history of the Bata Shoe Factory, take a look at https://odddaysout.co.uk/bata )
Umbrellas
43 Kendall & Sons
Kendall & Sons were a UK umbrella maker. They had branches in many UK high streets. The British umbrella succumbed to foreign competition by the end of the 1970s. Only M & S held out selling British made brollies.
Hatters/milliners
53 G A Dunn & Co
111 John Vickers Ltd - milliners
232 Madame Dorette - milliners
G A Dunn & Co started life as a men's formal hatter company. As a hatter, it had a following with mods in the 1960s.
Jewellers
60-62 W Bruford (of Exeter)
91 H Samuel
114 W Wright
182 Shipton & co
Brufords is still in business in Eastbourne and can now be found at the Beacon and in Cornfield Road.
Leather goods
140 Stuart Apps - fancy leather goods
225 Peter Trevor
224 Jaymar
Barbers/hairdressers
26 S Charles - ladies hairdresser
68 Joyce L Mishon - ladies hairdresser
68 Terminus Barber shop
112 Belmont - gentlemen's hairdresser
188 Barber Hair Fashion - ladies hairdresser
211 & 213 Robert of Mayfair ladies hairdresser
244 Rodney - ladies Hairdresser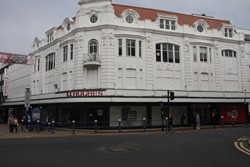 Department stores
70-90 Plummer Roddis
97-101 - Woolworths
133-137 Marks and Spencer (still there)
152-170 Bobby & Co (now Debenhams)
173-87 Barkers of Eastbourne
Bobby's was a chain of department stores in Southern England. Frederick James Bobby started the chain in 1887. He opened stores at several seaside towns including Bournemouth, Torquay and Eastbourne. Prince Charles visited this store in 1969. 1972 was its last year before being taken over by Debenhams. The stores were subsequently rebranded.
Barkers of Eastbourne opened in 1953. Barkers was a London-based store with its flagship branch in Kensington. In 1952, Barkers bought Dale and Kerley in Eastbourne. Barkers became part of House of Fraser in 1957, but kept its original name until 1973, when it became Army & Navy Stores. In the 1990s House of Fraser sold its Easbourne store to T J Hughes. Sadly, T J Hughes closed in May 2019 and the store has not reopened.
Plummer Roddis was a chain of department stores in the south of England. The group sold out to Debenhams in 1965. It is likely that Debenhams closed the store when they acquired Bobby's.
Art and antique dealers
1 Joan Rawsthorne of Alden - antiques
120-122 E Stacy Marks - fine art gallery and art dealer
180 Granny's Corner
Chemists
75/77 Boots (now in the Beacon)
115 Timothy Whites (closed nationally in 1985)
248 Richards of Eastbourne
Butchers and charcuterie
15 Lesson's - butcher
27 - J Manson - butcher
55 - J H Dewhurst - butcher
Delicatessen & charcuterie
3 F Bennet - cooked meats
198 Eats Delicatessen
Greengrocers and fruiterers
23 E Ward - fruiterer
29 F Meyers - fruiterer
42 Normans - fruiterer
Grocers
16 Hudson Bros
31/25 J Sainsbury
51 Liptions
116 Tesco
124-6 International Tea Company Stores
Sainsbury's and Tesco have moved to new locations.
Wine/beers
28 Stowells of Chelsea
Bakers
8-10 Duncan Foster
34, 59 & 171 Acres the Bakers
Confectioners
12, 50 & 200 Maynards
Electrical
39 Vision Hire - television rental
Cleaning and laundry
7 A Nicol - dry cleaner
Railway
9 Railway Enquiry and Postal Telegraph Office
Pubs/hotels
11 Gildredge - demolished 2017
61 The Squirrel
153 Terminus Hotel (closed 2013, it is now Bill's, a restaurant chain)
155 Diplocks Hotel
Restaurants & cafés
146-8 J Lyons
169 Oak Cabin
186 Ho Ho Restaurant
191-3 Fortes Café
195 Athens (see above)
199 Taurus
203 Notarianni (see above)
209 Restaurant Des Gourmets
226 Fullers
227 Wimpy Bar
245 Salad Bowl
247 Borza Café
246 D Macari - Ice Cream Parlour
248 Fish & Chip Restauarnt (now Harry Ramsdens)
Opticians
13 F A Bateman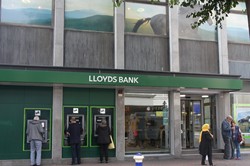 Banks and building societies
19 Abbey National
44 Alliance Building Society
4 6 -48 National Westminster Bank
56/58 - Woolwich Building Society
69 Temperance Permanent Building Society
92-4 Midland (now HSBC)
96 National Westminster
104 Lloyds
144 Leek and Westbourne Building society
147 Eastbourne Mutual Building Society
157 Portman Building Society
163 Leeds Permanent Building Society
163 United Friendly Insurance Company
Insurance
2 L M Farnham - insurance and mortgage brokers
64-66 Commercial Union
Estate agents/surveyors
6 L M Farnahm - estate agents and auctioneers
30 Fleetwood, Eversden & partners - quantity surveyors
Travel agents
54 Thomas Cook
150 Panorama Travel (Hove Travel Agency Ltd)
Wool & fabric
119 Bellmans (Scotch Wool)
In the 1960s, Scotch Wool and Bellmans were two separate chains owned by Coats Patons. There were a total of 350 shops throughout the country. In 1968 they merged the two brands. Coats Patons also owned the Jaeger brand, which they bought in 1967.
There was a branch of Scotch Wool and Hosiery Stores at 65 Terminus Road in the 1930s. This address is now Barclays Bank.
167 Sandcourt - Wool shop
173 C & H Fabrics
228 Pamcourt wool shop
There were several other wool shops at Eastbourne in the 1970s:
Button Shop, 21 Seaside
W Denham & Co Ltd, 27 Mountfield Road
The Needlecraft & Wool Shop, 43 High Street
Nina Norr, 7 Brassey Parade, Hampden Park
Pandora, 17 Albert Parade
R Smiths, The Broadway, Hampden Park
Searle's of Hailsham (The Wool Box), 32/34 High Street, Hailsham
H C Wallace, 7 Queen's Parade
Wool Shop, Cambridge Parade, Cambridge Road
Tobacconists
4 Harry Ash
48 & 139 Bewlay - tobacconist
176 Davison's
240 A Lewis
Carpets
18-22 Flude's
131 Herald Shops - carpets
196 Eastern Carpets
Cleaners
36 Sketchley
221 Nu-Way dry cleaners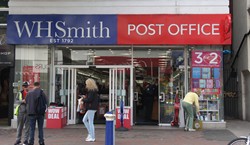 Newsagents and book sellers
110 W H Smith
Furnishings and interior
129 K Royle - house furnisher
194 Hammer of Eastbourne - drapers and soft furnishings
Health and personal services
87 O H Feasey - chiropodist
14 Alstons (British India Rubber Company) - surgical appliances
238 Alston's Corset Shop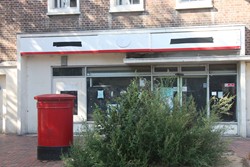 Other
25 Provident Clothing & Supply Co Ltd
51a Voluntary & Christian Service gift shop
57 Singer Sewing Machine Co Ltd
69 Harry Hardy - photographer
234 Douglas Catt - photographic dealer
85 South Easter Gas Board
139-41 Mothercare
143-5 Post Office (now in Smiths)
2 Southern Secretarial services - typing, duplicating, relief staff
24 G Marcus - Clairvoyant
30 The Samaritans
38 Ernest Hayes - turf commission agent
40 Gamley's - toys
70 Sussex School of Dancing
68 English Centre - language School
172 Southern Sports (Services) - sports outfitters
220 Lawleys - fine china & glass
222 Clark & Lambert motor car agents
250 Ye Olde Fashioned Humbugge Ltd
47 Help the Aged (source: The Times 22 November 1972)
Add your comments