Devonshire Chicken Casserole
60s Recipes - Devonshire Chicken Casserole
Devonshire Chicken Casserole is a hearty, rustic meal. Casseroles were a favourite meal in the 60s and 70s.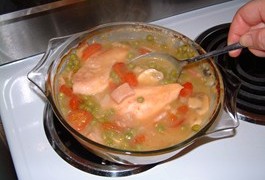 4 chicken breasts
1-2 tablespoons of olive oil
1 chopped onion
1 stick of chopped celery
2 rashers of smoked bacon chopped into small pieces
4oz/100g sliced mushrooms
1oz/25 plain flour
Seasoning to taste
pint/425ml chicken stock made with a chicken stock cube
3 tomatoes skinned and quartered
1-2 tablespoons of frozen peas
Convert:
Pre-heat the oven to gas mark 4, 180C, 350F. Fry the chicken breast slowly in the olive oil until brown (ie for about 5-10 minutes). Transfer the browned chicken into an ovenproof casserole dish. To the frying pan, add the chopped onion, celery, bacon and sliced mushrooms and gently fry to 3-4 minutes until golden brown. Sprinkle the flour onto the mix and season to taste. Stir well and cook for about one minute. Then slowly add the chicken stock and stir well. Bring to the boil. Add the skinned and quartered tomatoes. Then pour this mixture over the browned chicken breasts in the casserole dish. Place the casserole dish in the pre-heated oven. After 45 minutes of cooking, add the frozen peas and cook for a further 15 minutes or until the chicken is thoroughly cooked.
Serves 4