1950s: French onion soup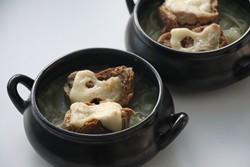 This is one of my favourite recipes. It is quick and easy to make. You can find variations of it in recipe books from the 1950s to the 1970s. My adaptation is from a recipe published in the 1956 Esquire Cook Book.[1]
Traditional French onion soup is made with beef stock. I have updated this recipe to make it suitable for vegetarian.
Ingredients:
2 white onions
2 tsps boullion powder
Emmental cheese
1 baguette
Serves 2 - double the quantity for 4.
1. Peel the onions and cut them into thin slices.
2. Make 1 pint (500 ml) of vegetable stock by mixing 2 teaspoons of boullion powder with boiling water.
3. Cut the baguette into small slices and toast under a grill.
4. Fry the onions in butter until soft, but not brown.
5. Add the stock to the onions and boil for three to four minutes.
6. Cut the cheese into thin slices. Put them on top of the toast and grill until melted.
7. Pour the soup and float the cheese toast on the top.
I used Marigold bouillon powder
for this recipe. You can use beef stock for a more tradtional taste. Chicken stock works well too.
References
[1] Esquire Cook-Book, by the Editors of Esquire; with an Introd. by Arnold Gingrich. Illus. by Charmatz
Add your comments
Comments
No comments yet. Be the first!