Breakfast cereals from the 1950s and 1960s
Breakfast cereals from the 1950s and 1960s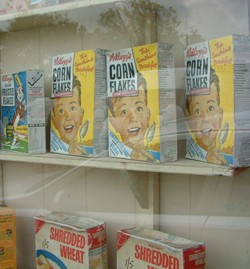 What did people have for breakfast in the 1950s and 1960s?
Many of today's branded cereals were on sale in the 1950s and 1960s. Kellogg's Cornflakes dates back to the nineteenth century in the USA. Kellogg's first exported to Britain in the 1920s.
Weetabix and Shredded Wheat were both around in the 1920s.
The 1950s was the sugar rush. Nearly every branded cereal got the sugar treatment. New sugary versions of puffed wheat, puffed rice and cornflakes were launched by Kellogg's and Quaker.
Both Kellogg's and Quaker used giveaways and offers to persuade people to switch brands. There were free plastic cars, figures and rockets in some of the packs. Collecting coupons also began in the 1950s. One of the earliest offers was to buy silver-plated spoons at reduced rates.
Snap, Krackle and Pop had been promoting Rice Krispies before the Second World War. The 1950s and 1960s saw new characters, Tony the Tiger (Frosties), Jeremy Bear (Sugar Puffs) and the Coco Pops Monkey.
At the same time, heathier cereals were also on manufacturers' minds. Kellogg's introduced Special K in the UK in 1959. Most manufacturers printed detailed nutritional information on their packs. The claims they made about vitamins and minerals were true.
The old obsession with constipation continued. The 1960s' diet of Chorleywood-processed bread and convenience foods might not have helped. Bran Flakes were new in 1957 and Kellogg's added Bran Buds and Raisin Bran in the 1960s.
The new obsession was protein. Both Kellogg's Special K and Energen Wheat Flakes claimed high protein levels.
Kellogg's
Kellogg's was the leading maker of cereals. In the 1960s they were selling:
All Bran (from 1922)
All Stars (from c1962 in UK)
Bran Buds (from c1964)
30% Bran Flakes (from 1953)
Raisin Bran (from c1964)
Coco Pops (from 1960)
Cornflakes in regular, family-sized and giant packs
Crispy Wheat
Frosties (Frosted Flakes from 1955, Frosties from 1960)
Sugar Ricicles (from 1956)
Sugar Smacks (from around 1960)
Rice Krispies (introduced in 1929 in the UK)
Special K (introduced 1959 in the UK)
Variety packs (from 1960)
Whole Wheat Flakes
Source Shaws - The Standard Guide to Fair Prices, various from 1963-1970
Kellogg's was familiar to British consumers in the 1920s. The original Cornflakes and All Bran were both introduced to the UK in 1922.
Kellogg's promoted All Bran and Bran Buds as a food to beat constipation. Bran Buds was a sweetened bran cereal. They were supposed to provide the roughage that was missing from the 1960s' diet.
There were plenty of sugar-loaded cereals aimed at children. Frosted Flakes became Frosties by 1960. Kellogg's also launched Coco Pops in 1960. You could choose from Frosties, Sugar Ricicles and Rice Krispies. All Stars were an import from Kellogg's USA in 1962. They were made by Kellogg's in the UK later that year.
The sugar content of some of these cereals was frightening. According to Which? in 1962 Sugar Smacks were about 50% sugar. Frosties and Sugar Ricicles were just under 50%.
The worst offender was Kellogg's All Stars, which was 58% sugar and 118 calories per ounce. [1]
Frosted Flakes
Kellogg's introduced 'Frosted Flakes' in 1955. The pack had a fairy waving a wand and turning the boring old cornflakes into Frosted Flakes.
Sugar Ricicles
Tony the Tiger started out by advertising Kellogg's Sugar Ricicles. They were toasted rice flavoured with sugar. There was an oriental twist to the adverts and a wise old tiger advised children that rice was great, but it was better coated with sugar!
In 1957 Noddy replaced Tony on packs of Sugar Ricicles.
Sugar Smacks
These were a sweetened puffed wheat breakfast cereal similar to Quaker Sugar Puffs (see below). In the USA they debuted in 1953. They were available in the UK by 1960.
Frosties
By 1960 Tony the Tiger moved to his proper place promoting 'Frosties' as Frosted Flakes were now known.
In 1962 Kellogg's offered a paddling pool for 14s 6d (72½p) with two tops from Frosties' packets. The promoters were inundated and had to quickly withdraw the offer.
In 1965 Kellogg's adverts said 'Put a tiger in your tum'. Perhaps they were inspired by Esso's 'Put a tiger in your tank', which was first used in 1959.
Special K
Special K was a cereal for grown-ups with no added sugar. It was all about protein. Special K could help you stay healthy and lose weight. It was good for children as well, if Tony hadn't persuaded them of the sugary delights of Frosties!
Special K did have more protein than the average breakfast cereal.
Did Special K help you lose weight? It had 111 calories per ounce. If you bought Sugar Ricicles instead you only got two calories per ounce more. But its sugar content was not too bad by 1950s' standards. Special K was 8% sugar. Sugar Ricicles were 39% sugar. If you wanted a really low sugar breakfast cereal, Shredded Wheat was better at 3% and also had lower calories at 107 per ounce. [1]
Variety pack
In 1960 the variety pack was six individual sized packs. They were two packs of Cornflakes and four others from Rice Krispies, Special K, Frosties, Sugar Ricicles, Sugar Smacks and 30% Bran Flakes.
Coco Pops
Coco Pops was Kellogg's first new cereal of the 1960s (in the UK at least). They were introduced in 1960. Coco Pops were Rice Krispies flavoured with coco. At least the sugar content was low compared to some of the sugar-coated cereals (33%). The new pack featured a monkey.
Quaker
Famous for Quaker Oats, Quaker made three branded breakfast cereals in the 1960s, namely:
Oat Krunchies
Puffed Wheat
Sugar Puffs
Quaker introduced Sugar Puffs in 1955. The original advert showed a steam train and claimed that they were a different class of breakfast cereal. They were puffed wheat coated with sugar and honey. The total sugar content was a shocking 54%.
Quaker used a red steam engine called Sugar Puff, similar to Thomas the Tank Engine, to promote Sugar Puffs in the 1950s. They published stories on the back of packets of Sugar Puffs. In 1957 a book 'The Adventures of Sugar Puff' by Valerie Webber went on sale for 3s 6d.
Quaker made the link between bears and honey in 1956. Bears featured in the adverts and driving the steam train. The bear was known as Jeremy by 1961.
In 1962 Quaker offered the young people of Britain the chance to become a pop star with Puffed Wheat. They needed to submit an application, a Puffed Wheat packet and coupon. They had to describe their experience as musicians and future ambitions. There was the chance of an audition for one thousand contestants and a recording contract with Pye for the lucky winner.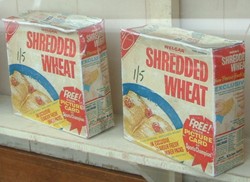 Nabisco
Shredded Wheat was an American invention. The Shredded Wheat Company first opened a factory in Welwyn Garden City, Hertfordshire in 1926. They started registering the name 'Welgar' as a trademark 1941. It was made up from WEL the first three letters of 'Welwyn' and GAR the first three letters of 'Garden'. Although the brand was owned by Nabisco since 1928, they used the name Welgar until the 1970s.
Shreddies were a wheat cereal flavoured with malt, sugar and salt. They were introduced in 1953.
Coming in 1957 Shredded Wheat Cubs were small Shredded Wheat.
In the 1960s adverts' it was suggested hot milk was great with Shredded Wheat.
In the 1960s Nabisco sold the following cereals.
Welgar Shredded Wheat
Welgar Shredded Wheat Cubs
Welgar Shreddies (from 1953)
Welgar Trios
Weetabix
As with Shredded Wheat, 1960s' advertising suggested using hot milk with Weetabix for a warm start to the day. Perhaps they were trying to persuade people away from porridge.
Puff-Kins were puffed wheat coated with sugar and honey. They were targeted at female buyers in 1960. They offered Bri-nylon stockings for 4s 6d instead of 8s 11d with a packet top from Puff-Kins.
Others
There were a number of smaller players in the cereal market in the 1960s. Some targeted healthier eating, such as Energen and Krunz.
You could buy all of these in 1962:
Bird's Grape Nuts
Brown's Derbyshire Barley Kernels
Energen Wheat Flakes
Force Wheat Flakes
Grancose Granobisk
Grancose Fruit Bran
Grancose Sunnybisk
Krunz by Modern Health Products
Mapleton's Fru-Bran
Mapleton's Washed Bran
Mapleton's Crumbled Bran
Sunfeast Barley Kernels
Uncle Mac's Puffed Wheat
Bird's Grape Nuts
Grape Nuts were first sold in the UK as far back as 1900. In the 1950s it was known as Bird's Grape Nuts.
References
[1] 'Breakfast Cereals' published by The Consumers' Association in 'Which?' August 1962 pages 227 to 230
Add your comments
Comments
No comments yet. Be the first!