Television in the 50s and 60s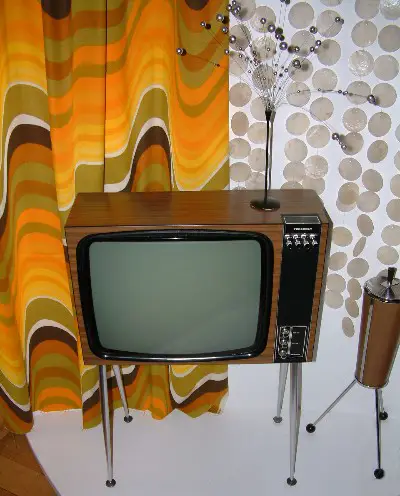 So many things changed in people's lives in the fifties and sixties, but if one thing stands out as defining the age more than any other, it is the coming of television. At the beginning of the fifties, television was a luxury item - only 350,000 households had a television set. By 1960, nearly three quarters of the population had television, and by the end of the sixties, nearly ninety-five percent. In the space of a few years television had gone from being a rarity to being almost universal. For every generation born since the 50s, television has been taken for granted as part of our lives.
The early years
Television broadcasting in the UK started before the War. The television service broadcast by the BBC was officially inaugurated on 2nd November 1936. Television was broadcast up to the outbreak of World War II and was resumed subsequently in June 1946. In the early years of television, there was only one channel - the BBC. One of the most popular of the early programmes was the panel game - "What's my Line". The panel of four would ask questions of a member of the public to determine what his occupation was. One of its first celebrities was Gilbert Harding - he later described himself as a "telephoney".
One of the most watched events on television in the early 50s was the Queen's Coronation in 1953, narrated by Richard Dimbleby. Many people watched the event on a friend's set. It is often quoted that the Coronation really sparked off the interest in television, or was the catalyst for it. It is certainly true that in the years following the Coronation, the proportion of households with television sets went up rapidly - from 14% in 1952, to 21% in 1953 and 31% in 1954.
But what did people watch in an average day? In the mid-fifties, the emphasis was on news, current affairs, history and serious drama. A selection BBC of programmes from 1955 included:
| | |
| --- | --- |
| 'In the News' | A fortnightly discussion on current affairs |
| 'Panorama' | A fortnightly topical magazine - still going strong today! |
| 'Facts and Figures' | A monthly survey for statistics in diagrammatic form |
| 'Animal, Vegetable, Mineral?' | A quiz programme for archaeological experts |
| 'Leisure and Pleasure', 'Family Affairs', 'About the Home' | The fifties equivalent of daytime television. A series of progammes for women. (All men presumably were out at work!) |
| 'War in the air' | The development of air warfare up to, and including the Second World War. There was, understandably a huge interest in the War in this era. |
| 'Mock Auction' | An early example of investigative television reporting. Mock auctions were a way of ripping the public off - they still are today! |
(Taken from the BBC Handbook, 1956)
In addition to these programmes, the BBC broadcast a large number of traditional and contemporary plays. Some adapted for television, others written specifically for it. There was also coverage of major sporting events. In the mid-fifties, the BBC covered the following events amongst others:
The University Boat Race
The World Table Tennis Championships, Empire Pool, Wembley
The FA Cup Final
Athletics: The British Games, White City
Tennis from Wimbledon
Test Match Cricket
Motor Racing from Silverstone
Speedway from West Ham Stadium
The International Horse Show, White City
A display of surfing and life-saving from Bude, Cornwall
Amateur Wrestling - England v France
Rugby International - England v France
International Soccer - England v Germany
Horse Racing: The Cheltenham Gold Cup
In the 50s, the hours people watched television were tightly controlled - the 24 hour broadcasting of today was unheard of. The Postmaster General stipulated how many hours of television could be shown each week. In 1956, for example, the BBC was allowed to broadcast television on weekdays between 9am and 11pm, with not more than 2 hours before 1pm. There was also a period between 6pm and 7pm when no television was broadcast. This period was used by parents to trick young children into thinking that the evening's television had finished so they would go to bed without complaint - it was known as the 'toddlers' truce' -imagine that today! At the weekends, the rules were no more relaxed. A maximum of eight hours broadcasting was allowed on Saturdays and 7 3/4 hours on Sunday. On Sunday another anachronism reigned - television shown between 2pm and 4pm was intended for adults - children were meant to be at Sunday School! Gradually the rules on broadcasting hours were made less strict. The 'toddlers' truce', for example, was dropped in 1957.
Take your pick!
Television went through three major changes between 1950 and 1969. The first came in 1955. Up until then only BBC1 could be received. This was known as Band I. In 1955 Band III - or ITV was introduced. All sets sold before then would not receive the new channel without being converted. ITV was popular with the public and many people bought new sets or had older ones converted. By 1959, 60% of households could watch ITV and by 1961, 80%.
When ITV came along in 1955 television changed. The commercial pressure on ITV meant that the emphasis shifted towards more 'popular' programmes - quiz shows, soap opera and more light entertainment. Although, ITV did not shun the more serious programmes altogether. The first ever programme broadcast by ITV was a short piece by the Halle Orchestra.
Of the programmes shown by ITV in the early years, the quiz show "Take your Pick" hosted by Michael Miles always drew a big viewing. Contestants were picked from volunteers from the audience. They would answer questions to win a key to a box. Miles would then try to buy the key back off them by offering up to £20. The contestant could choose to accept the money or open the box. He or she might get a prize or the booby prize of no value - they had to take a gamble. Some of the prizes were fantastic for the era - cars, trips to Australia and a fully fitted kitchen were given away. Some were more mundane. Miles himself claimed he would always take the money!
Other popular programmes on ITV were the hospital drama "Emergency Ward 10", the quiz show "Double your money", "Opportunity Knocks", "Sunday Night at the London Palladium", and "The Adventures of Robin Hood".
ITV also imported programmes from America. The comedy "I Love Lucy" staring Lucy and Desi Arnaz had huge audiences in America and was just as successful over here. In one episode ("New neighbours") a new couple moved into Lucy's apartment block. She overheard them rehearsing for a play - but thought that they were spies planning all sorts of foul deeds. Lucy and Ricky, (Desi Arnaz) together with neighbours Fred and Ethel, (William Fawley and Vivian Vance) mounted a 24 hour guard with rifles and tin hats. In the end they were arrested, but not before they shot a hole in the cold water tank! (visit www.lucy-desi.com for lots more information about "I Love Lucy")
Other favourites from the US that were here to stay were the TV Western and the cop show. Dragnet made it's first appearance, when along with I Love Lucy, ITV first began broadcasting.
In the early days of ITV, the people deserted the BBC in droves. Within the first few years of broadcasting, ITV was taking around 70% of viewers from the BBC. The BBC had to change to survive and became more like ITV. The BBC had it's own "cop show" - "Dixon of Dock Green" which was first broadcast on July 1955 - before ITV began. They also converted the hit radio comedy "Hancock's Half Hour" to television. Tony Hancock played an exaggerated version of himself. He lived with pal, Sid James, at 23 Railway Cuttings, East Cheam. In one episode, Hancock lamented reaching 35 without any success with the ladies - as Sid put it, he had "tried every kind of bird from the young Conservatives to the biscuit factory" and none of them liked him. He enrolled in the "Mayfair Charm School for Men". Even after taking the course, his newly-learned skills were no match for the rough charm of Sid.
It was this period - the first few years of ITV - in which firm favourites were established for particular kinds of programme that are still just as popular today - the police drama, the hospital drama, the quiz show, the comedy show etc. The early days of the "auntie knows best" paternalism of the BBC have vanished. To get an idea how much television had changed the top five most watched programmes on BBC in 1960 were:
1. Spy-Catcher (8pm Thursday)
2. Hancock's Half Hour (8.30pm Friday)
3. Dixon of Dock Green (6.30 pm Saturday)
4. Laramie (A Western)(7pm Saturday)
5. This is Your Life (7.30pm Monday)


These are all evening shows. At the weekend the Sunday film was a popular hit as was "Grandstand" shown on Saturday afternoon.
Into the sixties
The second major change in the development of television came with the introduction of BBC2 in 1964. This was broadcast on 625 lines UHF (and still is today!) - older sets could only receive 405 lines. BBC1 and ITV were still broadcast on the old band. In the mid sixties sets were sold that could receive both. The public were less keen on BBC2. Programmes were more high-brow. Consequently, take-up was slower than had been for ITV.
By the mid sixties, viewing habits had not changed significantly except for "Top of the Pops". The top five BBC programmes for that year were:
1. Dr Finlay's Casebook (9.15pm Sunday)
2. Black and White Minstrel Show (7.50pm Saturday)
3. Top of the Pops (7.30 pm Thursday)
4. Perry Mason (9.25pm Monday)
5. Z Cars (8.00pm Wednesday)


This is a typical Saturday's viewing from 1965 (24 July)
BBC1

5.15 Juke Box Jury
5.40 Dr Who: Checkmate
6.05 News, weather
6.15 Cricket
6.35 The 1965 Royal Tournament
7.20 Western
8.50 Summer Comedy Hour
9.55 The Flying Swan
10.40 News
10.50 The Andy Williams Show
11.40 Weather



BBC2

6.55 News
7.00 Sport of the Day
7.50 Montreux Festival 1965
8.20 The Big Stride
8.45 Legend of Death
9.10 Cinema 625
10.40 News Summary
10.42 Late Night Line-up


Midland ITV (ABC)

1.10 Summer Sport (Water skiing, racing, athletics,
motor-racing, wrestling)
5.5 Sports Round-up
5.15 Sir Francis Drake
5.45 News from ITN
5.50 Lucky Stars - Summer Spin
6.30 Opportunity Knocks
7.20 Hong Kong
8.15 The Best of Morcambe and Wise
8.50 Hawaiian Eye
9.40 News
9.50 Ghost Squad
10.45 Mainly Millicent
11.20 ABC Weekend, weather, Epilogue Close Down

London ITV offered the same schedule except:
5.15 - 5.45 The Forest Rangers
7.20 The Saint
8.15 The Great Van Robbery
9.20 The Best of Morecambe and Wise
10.00 News
10.10 Undermind: Onset of Fear
11.5 Milligan's Wake
11.35 Four Just Men, weather, Epilogue.
Yes that's right television on BBC1 started at 5.15pm - although in other months "Grandstand" would have been shown on Saturday afternoon.

The "Western" on BBC1 was "Flame of the Barbary Coast" staring John Wayne and Ann Dvorak. "The Great Van Robbery" was a film about a daring robbery of a Royal Mint van. BBC2's "Cinema 625" was a Czech film called "Transport from Paradise" about concentration camps.
The "Summer Comedy Hour" BBC1 (8.50pm) was a play "Almost a honeymoon", by Walter Ellis. It made it's debut in the West End in 1930. In 1965, a play written in 1930 would have been considered old fashioned, rather than nostalgic. ITV's offering "Undermind" was a thriller about a sinister organisation that was trying to disrupt Western Society. This kind of theme was fairly common in sixties film and TV. At 7.20 on ITV London you could see "The Saint" staring Roger Moore.
Man walks on the Moon - in colour
Colour television was first broadcast at the end of 1967. In this era colour television sets were very expensive and take-up was slow. Originally colour could only be received on BBC2 - ITV and BBC1 were first shown in colour in 1969. In 1969, BBC2 viewers were able to see shots from the Moon in colour. The Moon landing itself was broadcast at 3.56am on a programme hosted by Cliff Michelmore, James Burke and Patrick Moore. Coverage had begun at 11.30pm the previous night and continued throughout the night - a real rarity in this era.
In 1969 the BBC was busy converting existing programmes to colour - "The Troubleshooters", "The Doctors", "Z cars" and "Softly, Softly" all went out in colour that year.
More on television:
South West England Vintage Television Museum
A virtual museum hosting images of television sets from the 50s, 60s and 70s.
South West England Vintage Television Museum
405 Alive
A society devoted to running vintage television sets using 405 lines. i.e. before 1964.
Retrowow
Your guide to vintage and retro