60s and 70s Beer Guide
Changing fashions ruled beer drinking in the 50s, 60s and 70s. First bottled pale ale challenged draught mild as the Nation's favourite drink. Then a few years later, everyone was drinking draught keg bitter, with Watneys Red Barrel the best known brand.
Lager was the drink of the 70s. The hot summer of 1976 provided a reason to try the beverage, but tastes were changing. In 1971 there was a backlash against the relentless spread of keg bitter and lager when CAMRA, the Campaign for Real Ale, formed. In the latter part of the seventies there was a resurgence of some traditional brews; real ale, though, still remained a minority taste.
From mild to bitter
Mild was the working man's drink for the first half of the twentieth century. The only choice was between mild and stout; bitter was a luxury. In 1900 best bitter was almost unknown and in 1929 it was still only a tiny fraction total beer sales.
At the start of the sixties, mild was the dominant beer. Around 40% of the output of Bass Charrington, Britain's largest brewer, was mild. By 1967 this had fallen to 30%. Mild was losing favour, though it was the cheapest beer. It did have strongholds in the Midlands (notably M & B Mild), but the majority chose best bitter.
Best bitter on draught and its bottled equivalent, best pale ale, were the favourite beers of the 60s. Pale ale was sold as a premium beer; it was a popular luxury.
From cask to keg
Keg bitter is pasteurised to stop any fermentation. Carbon dioxide is added to give the beer sparkle. The pressure of carbon dioxide is used to draw the beer up from the cellar. So keg beer does not need a traditional long handled beer pump.
The first keg beer was Watneys Red Barrel, developed in the 30s. The big brewers though, did not heavily promote keg bitter until the late 50s. The first brewer to use the term keg and to promote sales of keg beer was Flowers (later taken over by Whitbread). Many of the others followed suit and each launched their own brand of keg bitter: Worthington 'E', Whitbread Tankard, Ind Coope Double Diamond, Youngers Tartan and Courage Tavern.
Sales of keg beer increased steadily throughout the sixties. In 1960 it was 1% of the total beer market, by 1965 7% and by 1971 18%. Keg beer was most popular with the young. It was the natural choice for the new themed pubs and disco pubs of the 60s. Keg bitter was more expensive than traditional cask conditioned ales and was marketed as a premium brand.
There was a tendency for brewers to reduce the strength and original gravity (a measure of the proportion of ingredients, hops, barley etc to water) of cask beers. The keg beers were the best the brewery had to offer so there was no need to spend as much on the cask conditioned beers. Throughout the sixties people suspected that that beer was getting weaker; they were right.
By the latter part of the sixties, carbon dioxide was often added to cask beers as well; they were drawn up from the cellar under pressure in much the same way as keg beer. For the drinker at the bar, there was little to choose between them. The more discerning opted for keg.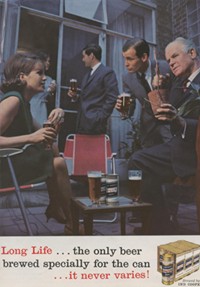 Bottled and canned beer
The rise of keg bitter in the sixties stopped a trend that had begun after the War of increasing sales of bottled beer. It even appeared that sales of bottled beer might overtake draught beer. Reasons for choosing it over traditional ales were consistency, brightness, a clean palette and sparkle. Keg bitter provided all these qualities at a cheaper price.
Canned beer was in its infancy in the late 50s. Ind Coopes Long Life was one of the first. The brewer picked up on concerns about the quality of cask ales and claimed Long Life was brewed for the can and never varied. Canned beer sales increased throughout the sixties, but did not become important until the seventies. Watneys Party Seven was a new take on canned beer.
National brands
Before the 60s, the supply of beer had been regional. There were a few exceptions with bottled Guinness, Bass and Worthington sold throughout the country. In the sixties other national names emerged, namely Double Diamond (bottled), Mackeson Stout (bottled) and draught and bottled Watneys Red Barrel. Watneys Red Barrel was making inroads into the free trade. Double Diamond, Bass Worthington and most notably Guinness, were becoming increasingly available as draught. The success of Guinness encouraged Watneys to compete with Colonel Murphy's Stout. After a test marketing campaign, they abandoned it and stocked draught Guinness in Watneys' houses instead.
By the end of the sixties, lager too was more popular. Draught Carlsberg was available at Watneys' pubs and Whitbread had linked up with Heineken. Sales of lager, though, did not become significant until the 70s.
Strong beers
Strong ales were often sold in nip bottles (one third of a pint). The most famous was Tennant's Gold Label; it was in the Guinness Book of Records as the strongest beer on regular sale in the UK. Later it was brewed as Whitbread Gold Label. 70s advertisements told drinkers that it was "Strong as a double Scotch, less than half the price". It is still available today.
The 70s keg beer and lager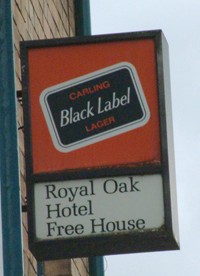 At the beginning of the 70s, the most popular brands of keg bitter dominated British beer drinking. They were more expensive than cask bitters, so people must have liked the taste or bought the advertising.
Advertising of keg bitters made extravagant claims. Whitbread Tankard was supposed to help you excel, how, was not made clear. Beer had long been advertised as a drink to improve heath. The "Guinness is Good for You" and "Guinness for Strength" campaigns are famous. Was a touch of parody intended?
Rivals made equally bold claims. Worthington 'E' was "the taste that satisfies". Courage Tavern was "What your right arm's for". Double Diamond "worked wonders".
Keg bitter's popularity was challenged in the 70s by lager. Sales of lager increased from only 2% of the market in 1965 to 20% in 1975.
Lager had been sold in Britain long before the 60s. It was brewed here as early as the 1890s, but was a very small part of the beer market. It had a reputation as a ladies' drink. When mixed with lime it was considered as an alternative shandy.
Today's well known brands of lager were introduced in Britain from the 50s. The brewery magnate E P Taylor brought Carling Black Label to Britain, from Canada, in 1953. Starting from small beginnings, brewed under licence by the tiny Hope and Anchor Brewery, a series of mergers left Carling Black Label part of the Bass Charrington empire.

The other big brewers introduced their own brands. Guinness launched Harp Irish Lager in 1960. Whitbread signed an agreement to import Heineken in 1961; Watneys linked up with Carlsberg in 1968.
Whitbread brewed Heineken under licence in the UK in 1968. The Whitbread directors thought a weaker version of the Dutch beer would sell better - they were right. Later the Belgian beer, Stella Artois, joined the Whitbread stable as their premium lager.
It was the long hot summer of 1976 that firmly established Britain's taste for lager. Cool and refreshing, it was the beer to beat the drought. By the end of the decade, lager took 29% of beer sales.
There are many reasons for the rise in the popularity of lager. Package holidays in Europe gave people a chance to try lager and they associated it with relaxation and warmer climates. It goes better with more exotic food. Continental dishes - French and Italian - were popular in the 70s, as were Chinese and Indian food and there is no better accompaniment to a curry than a pint of lager.
From keg to cask
The aggressive promotion of keg bitters finally resulted in a backlash. CAMRA, the Campaign for Real Ale, was founded in 1971.
In the 70s, sales of cask beers began to rise as there was a growing appreciation for the traditional methods of brewing. It is a testament to the success of CAMRA that the "classic" keg bitters of the sixties are now extinct.
---
Beers from the past
There were more than 4,000 different brews available in the 60s, so we cannot list them all. This is a list of the most important ones.
Keg bitters on draught
Worthington 'E'
Ind Coope Double Diamond
Whitbread Tankard
Watneys Red Barrel
Younger's Tartan Bitter
Courage Tavern
Flowers Keg Bitter
Draught bitters
Some of these were not available for the whole of the period. I have added John Smith's because of its popularity today. It was very much a regional beer in the 60s.
Bass Red Triangle
Worthington IPA
Ind Coope Bitter
Worthington IPA
Whitbread Bitter (60s)
Whitbread Trophy (70s)
Watneys Special
Younger's Scotch Ale
Courage Bitter
Ansells Bitter
Mitchells and Butler's Brew XI
John Smith's (Tadcaster) Bitter
Retrowow reader Nathaneal remembers the TV adverts for Whitbread Trophy:
I have a strong memory of the advert on telly about "Whitbread, Big Head, Trophy Bitter, the pint that thinks its a quart. It's got the body, the body, that satisfies - It can't be modest, no matter how it tries!" Aye, those were the days, lad!
See UK television commercials 19551985 for the full text and some other classic adverts from the 50s to the 80s.
Draught milds
Most breweries in the 50s and 60s offered a mild. There were offerings from Green King, Greenall & Whitley, Charrington, Watneys, Whitbread, Courage, John Smith's, Ind Coope and Ansells amongst many others. One particular favourite for Midlands' drinkers was Mitchells and Butlers (M & B) Mild.
Best pale ales (bottled)
Bottled best pale ales were growing in popularity in the 50s. To a certain extent this growth was brought to an end when keg bitter was introduced. It offered similar characteristics for a cheaper price.
Bass Red Triangle
Ind Coope Double Diamond
Worthington White Shield IPA
Charrington Toby Ale
Younger's No. 3 Scotch Ale
Watneys Red Barrel (Export)
Whitbread Pale Ale
Whitbread (Flowers) Brewmaster
Vaux Double Maxim
Brown ales
Ansells Nut Brown
Fremlins Double Elephant Brown Ale
Greene King Burton Ale
Whitbread Forest Brown
Light ales
Charrington/Hammonds Prize Medal
Fremlins Elephant Light Ale
Younger's Pale Ale
Ushers India Pale Ale
Whitbread Light Ale
Stouts
Guinness
Mackeson (Whitbread)
Watneys Cream Label
Strong ales
Often sold in nip bottles (one third of a pint), strong ales were gaining a following in the late sixties and early seventies. These are some favourites from the past.
Whitbread Gold Label
John Smith's Magnet Old Ale
Younger's King of Ales
Daniel Thwaites Old Dan
Watneys Stingo
Ind Coope Arctic Ale
Thanks to Mr L Prior for Ind Coope Arctic Ale:
"It was a rival to Gold Label and very similar. I just thought I might mention it. Ind Coope vanished like a lot of our famous breweries. My family used to work for them in Burton on Trent back before World War II. They took over Benskins in Watford in the 60s and I lived there and saw the demise of Benskins. I'm told the old Benskins best bitter recipe lives on in a micro brewery in Devon and it's known as Vale Best Bitter."Mr L. Prior
Lagers
Lager gained in popularity throughout the 60s, but did not challenge draught bitter until the 70s. These are some of the lagers available in Britain in the 60s.
Carling Black Label
Heineken
Carlsberg
Skol
Harp Irish Lager
Tennent's Lager (canned)
Tuborg Green Label Pilsner
By the seventies you could also get
Carlsberg Special Brew
Stella Artois
Carlsberg '68
Holsten Pilsner
Beck's Bier
The popularity of these latter brews increased substantially in the 80s and in some cases the 90s.
---
Can you buy it today?
Keg bitter
As far as any of the more popular 60s keg's are concerned, the answer is no.
Bottled beer
A good number of the most popular bottled pale ales are still available. Worthington White Shield IPA is available, as is Bass Red Triangle. I have also read that you can buy Double Diamond at Morrisons (although I have yet to find it!).
The one great discovery for me doing this research was Whitbread Gold Label Barley Wine. It is a strong beer sold in small cans (the cans were introduced in 1975). It has quite a sweet taste and is very pleasant - perfect for a night cap. Whitbread Gold Label Barley Wine is available in Sainsburys, Waitrose, Morrisons and some local Co-ops.
Lager
Most of the popular brands from the 60s and 70s are still available in the supermarkets. I have seen Skol, Carlsberg, Carling (without the Black Label) and Harp.
Mild
Mild has continued to decline in popularity and there are few available now. Whitbread still do canned draught mild and you can also get Sainsbury's own brand.
Add your comments on 60s and 70s beer
"I've been out of the country for 20 yrs. On returning the first thing I wanted was a pint of Forest Brown. What the hell happened? I can't stomach lager's and will always stick to a good British Ale - what's left of them. Over seas you really have to hunt for a true brewery.
Cheers!" Jules 14/03/2011
"I will never forgive Whitbread for closing down Flowers Brewery and serving up their insidious bilge passing as Flowers," john hawes 25/03/2011
"My father rants on about how good M&B Albright ale was. Can anyone give my any info on the product or even a photo of the bottled label" Ian Hadley 30/03/2011
"If Stella Artois keeps going down in alc/vol before to long it will be able to be sold as near beer." A.P.Strong. 19/06/2011
"Hyde's black dark mild on draught and Mann's brown are available at a pub in Bolton." Ian Johnson 20/06/2011
"I was one of the first 3 Ansell's Bittermen (stage name David Hilton)in 1968 (I think). I remember the two day shoot. We all landed up whistled, for we used the real excellent beer... I'd like to know where I can find copies of A/the advert, and B/ the bar mats produce from stills. Anyone got any ideas please? David." David E Mash 15/07/2011
"My first time in a pub for several years - I asked for a light and bitter (my favorite from the 70's) but they had no idea what I was talking about. I also used to enjoy a 'boiler' (or boiler makers drink) which was a bottle of brown ale mixed with half a pint of bitter in a pint pot. In 1974 I paid 14pence for a pint of Tartan in Shanklin. We boycotted the local disco when they put Tankard up to 25p a pint." stevedexteruk 02/08/2011
" Hi all, Was there Landlord Bitter about in the 70s? Would love to know. Bit of a funny question like.

Thanks" Tom 14/08/2011
"Many thanks for the trip down memory lane. I still miss those party sevens." Syd Partridge 26/08/2011
"I always remember Youngs Old Nick barley wine. It was popular to mix it with Youngs Export Bitter making it an Old Nick and Export, a drink which on a cold winters night certainly warmed you up." Roj 03/01/2012
"beers sorely missed from the seventies include Double Diamond on draught, Whitbread Tankard and not forgetting Chesters 'fighting' mild!!!" ian halliday 11/01/2012
"I know you can still get Newcastle Brown but can you still get Forrest or Watneys Brown ale.
These were beautiful ales that went well mixed with Bitter or Mild;
Dear oh Dear changing times and not for the better" Stevie D 18/01/2012
"Oh for the days of my youth down south drinking light and bitter . Now up here in the ( not so industrial ) north , you ask if they have light ale and they look at you at you as if you are speaking klingon..even a recent holiday to devon ..not a bottle of light in sight :( ....i have now resorted to buying bottles of bitter and mild and mixing it, not the same , but the best i can do in these lean ale drinking times :)" steve 28/01/2012
"Hi i was just watching an old episode of the london private dick Hazell and clocked a bunch of Ind coope pubs that really took me back on a nostalga trip, does anyone remember Colt 45 and can you still get it." andy skelton 28/01/2012
"I am 62 and I was brought up on mild and then keg beers. How I miss my keg beer which is to me the real ale. If the youngsters today could drink keg beer rather than explosive shots of spirits then we would live in a happier world." Graham Falconer 15/02/2012
"Heineken Export and Guinness XXX in my youth. The stuff hangovers are made of. Trophy Bitter started my sensible move to real ale :)" Graham D 03/03/2012
"I remember Colt 45 as well, I also remember my local at that time (since demolished)having a 'promotion' night where we were encouraged to drink a yard of the fizzy awfullness. Consequentially the loos were pretty disgusting that night.

I think my first sip of real ale may have been a pint of Wethereds in the Crown and Treaty, Uxbridge. In about 1976. I would have been about 15 (But I must have looked older in my fashionable platform soles)" Ian Bucket-Belly 23/03/2012
"In the late 70s I drank a lot of 'Manns Draught', which was an even more quaffable version of the bottled brown stuff. is this still available anywhere?" Gary T 25/03/2012
"I believe that clever marketing and a gullible young age group of "Beer drinkers" let in CAMRA who suggested that real manhood had not been reached unless you drank and enjoyed
"Real Ale".......A touch of the "Kings clothes" methinks." Ray 18/04/2012
""Any Tom, Jack or Walt, who likes the taste of malt, will love the malt in a Colt 45"" kelboy 07/05/2012
"Had good times in the 70s Trophy bitter Greenhalls Wem bitter Thanx To the real ale campain Shows that thier is still passion & some good ale still to be had" Andy Lawley 12/05/2012
"Hi, has anyone any info on a drink called a chinese, its a mixed drink and it is alocal drink from around merseyside area ? help" Linda Patterson 15/05/2012
"I have an unopened bottle of Whitbread Forest Brown Ale, at least 40 years old!!!" GARY CREIGHTON 20/05/2012
"McEwens Export was a popular keg beer in 60's- its canned version is still around & most fans of old kegs should enjoy it" Ron 20/06/2012
"My old man was a M&B mild drinker when i was a wee lad but For some reason he changed to W&D (Wolverhampton)Banks bitter, a wise choice. Thats when he taught me to drink in most the Walsall pubs thats when i knew he was the greatest DaD and dam good he is to I'm now 64 and still a Banks bitter man.Of all the things i love my father for its the Banks bitter training, the good old days eh.Beer is still a good talking point between sips of course." Frank 26/06/2012
"I remember a few years ago drinking Youngers Tartan. It was my favourite beer. Is there anywhere still sells it? Also Watneys Red Barrel was quite good. Again not available any more." alun jones 15/07/2012
""Hi, has anyone any info on a drink called a chinese, its a mixed drink and it is alocal drink from around merseyside area ? help" Linda Patterson 15/05/2012

A Chinese is lager over bitter in Birkenhead/Wirral and is known as a Golden over the water in Liverpool" Alfie 17/07/2012
"I'm too young to remember the taste of most of the keg beers, but remember a lot of the early 80s adverts - Whitbread best "The Best Best needs no etiquette" and Courage best with Chas n Dave playing the music.
I did work in a pub briefly which sold Trophy and Whit Best, and compared with the ales I now drink (draught, bottled and home-brewed) I seem to remember a bit of a lack of taste... Apologies if this is heresy!" Ian 03/08/2012
"Taylors Landlord Bitter was certainly available on draught in the seventies. I even remember drinking it on the Keighley and Worth Valley Steam Railway. However, I doubt it was available nationally, Cask Ale being a bit of a niche market in those days." Geoff Bragg 26/08/2012
"There used to be various beer combinationsin pubs. Mild and bitter, "Black and Tan" - Guiness and Bitter. I only learned last night that a "dog's nose" is gin and bitter! However, the one that made me laugh was a "mother in law" - old and bitter!" Geoff Bragg 27/08/2012
"I don't remember Ind Coope Arctic Ale (maybe it was regional?), but they certainly did a barley wine called Triple A. "Go the whole way with Triple A" was the slogan on the beermats. Ind Coope also ran a TV ad campaign: "Sometimes you really feel like a pint; sometimes you really feel like a short", which went on to promote Triple A as the drink that filled the gap in the middle when you felt like neither a pint or a short." Dave Rogers 04/09/2012
" is vaux gold and silver tankard still brewed anywhere,that was a good local sunderland brew." robert burnett 12/09/2012
"where can i purchase colt45 in buckinghamshire or slough or high wycombe" delia gumbs 19/09/2012
"WHAT THE FLAMING HECK HAVE THEY DONE TO WORTHINGTON WHITE SHIELD??? The stuff they're selling bears NO RESEMBLANCE to the original. Ye Gods, you can even SEE THROUGH IT! And what idiot decided to ditch that marvellous Victorian label in favour of this effort - it looks more like an English Defence League banner than a beer label.
Anyway, that's enough ranting for one day - my friend Justin's just arrived with some sushi and a DIVINE Sauvignon Blanc........." roger 18/10/2012
"Roger, not just me then. Mate of mine just brought me two bottles of Worthington White Shield, the stuff i used to have in the eighties was strong enough to knock out a cow and had 1/2 inch of sediment and would explode if you looked at it funny, not sure what i have here. This ain't the same!!!!! Gonna drink it n find out what has happened......." Crow Hedger 20/10/2012
"I occasionally drank bottled Bass Red Triangle & Worthington White Shield IPA in the 60s, & wondered if they were the same (bottle conditioned) thing, with Worthington being part of the Bass group; notwithstanding, a classmate in our technical college said that in his local (the Cornish Arms in Hayle), a bottle of each in a pint glass was an 'Electric Light'." Dave Davies 28/10/2012
"I was a teenager during the early/mid 1970s and was 'weened on' Double Diamond & Watney's RED barrel and still miss drinking those beers in 2012!. Pubs in England since the 1990s only sell ''real ale'' and it tastes TERRIBLE so i don't bother going into them anymore, i wish i could still buy a nice pint of Double Diamond or Watney's RED barrel!." Mickey 24/11/2012
"Mickey (24/11/12) You are very much off your head, the very reason the keg beer of the 1970's have all disapeared is because it was tasteless fizzy bilge. There are now over 1000 breweries in this Country, and the CASK ales produced are by far the best ale this Country has EVER had. The quality, the strenghts, the diversity, and now Real Ale is here to stay because it is simply the best. I remember drinking Trophy Bitter, Tankard Biter, Worthington E, Doble Diamond, Albrite etc, they were just awful." Kez Challacombe 26/12/2012
"They remade a cask version of Worthington E at the GBBF not so long ago, and apparently Double Diamond is still brewed for the Duke of Edinburgh.
However, the word "crat" (now "krat") also originated at one of these modern ale festivals." Lemmy 04/01/2013
"Lemmy, why don't you write a song called '15 krat' to commemorate DD for the DoE? I remember the crat at the Cardiff ale festival of 2005." Steve Trousers 07/01/2013
"No thats alright Kez i know wot i like and it's not the stuff around now days it was a nice pint or three of DD (thats Double Diamond for you younger guy's) or Watney's Special "For the southerner it's the guvnor!" (remember that one guy's?) back in the golden 1970s. Cheers guy's!." Mickey 08/01/2013
"hi have just been to burton brewer
and had wothington e
in youth i recall the advert was
WORTHING E THE BEER NATURAL BEER IS HERE
CAN YOU CONFIRM" mallsmith 11/01/2013
"I'm looking for the WATNEYS RED Barrel Dispenser complete with Drip Tray, to replace the one that was removed from the renovated HMS Cavalier (A WWII Destroyer ) in The Historic Dockyard. Chatham.
Has anyone got one the could be made available for us to refit in the hole in the Wardroom Cabinet. Cheers. Mike, one of the volunteers working onboard." Mike Fleet. 22/02/2013
"There are plenty of Trophy knockers here but I have the fondest memories of it in the West Country in the early 70s. It was all in the management and delivery. At the Drewe Arms in Drewsteignton, the near-centenarian landlady, "Aunty" Mabel Mudge, deaf as a post, replied to my request for 2 pints: "Help yourself, dear, and put your money in the saucer". So I drew 2 pints from a wooden barrel and enjoyed one of THE great English pub experiences of my life. Ale, atmosphere, setting all perfect. Now that fizzy urine,Tankard, was a different story..." Paul Cater Block 27/02/2013
"I remember Colt 45 with scrumpy cider - a brilliant 'snake bite' looked like diesel oil in the glass. Unfortunately Vaux's brewery was demolished a few years ago, but I have seen their Double Maxim in a local supermarket a couple of years ago. Don't know who brews it now, but it won't taste the same as that brewed on Wearside. In 1969, I remember my dad taking me for my " first pint of Tankard" in the White Swan ( now gone ) in Winsford, and the then landlord - Claude Bunt greeting me by name (I used to knock around with his son at the time). My dads face was a picture! There was a strong Merseyside influence, and it is the only pub I have been in that had waiter service in the lounge bar! My drink at the time was Nut Brown over Greenalls Bitter. Worst attempt at a Lager was Greenalls 'Grunhalle' vile to say the least!" George Dodd. 23/03/2013
"Does anyone know of an ale which has the flavor and taste of the long forgotten McEwans tartan ale sold in the US ?" Russell Chaplis 01/04/2013
"I was stationed in England for three years and fell in love with Tartan Bitter. Is it still available?" Charline 05/04/2013
"Boddingtons 'BODCANS' - 4 pints of quality bitter in a steel barrel were very popular in the North West in the 1970's. 99 pence & they were sealed with a rubber widget. Happy days !!" Peter B 01/06/2013
"Had a pint of Courage best in a Reading pub last week. First one for 35 years. Actually rather drinkable and didn't taste a whole lot different than my (probably faulty) memory recalled. Closest thing to proper beer for many a long year though." lecroc 13/06/2013
"What ever happened to our Beers & Pubs, Dam Super Markets, Put the Booze back where it belongs in the off Licence,& Pubs of Course,That would stop some of the drunks,
1970 was my Time, A Great Pint of Ind Coope Mild followed by a few More,They then brought out Drum Mild, Cost More of Course, Coolers, Hate the Dam things, If I want an Ice berg I know where to go, but not in my Pint, Ind Coope was my favourite, Mild or Brown & Mild, Double D Came out a few years later, Ok ish, Get the Booze Back in Pubs not Corner Shops ect,, As for Courage back then,Well you needed Courage to drink it,
Lets Wind the Clock Back, I will even drink a Pint of Courage
We went to the Courage Brewer, Thats the old one years ago, had a Tour ect then to the Bar, Yes it was Courage But We drunk it Dry that Night, Had to leave at 10.30 Crazy
Good old days though" Tony 03/09/2013
"Good old days of Watney's. I thought it was disgusting, but drank the stuff anyway because that was what everyone else was having. You couldn't get away from Party 7's in the early eighties!
My tipple of choice was MacKuen's Scotch Ale or a Guinness. back then." Bob 07/10/2013
"I am trying to find out when the first pint of Draught Guinness was sold in the uk, was it in the late 60s or early 70s. please could you tell me when. Thank you" MR Idris Williams 28/10/2013
"Guinness was available draught in the 60s. Best regards" steven 28/10/2013
"Can anyone advise if you can buy cask conditioned mild anywhere please." Jerry Holt 19/11/2013
"Hi Jerry,
I have seen it in some pubs around Oxford. Greene King also brew a cask conditioned mild, Green King XX Mild. I haven't tried it though. See http://www.greeneking.co.uk/index.asp?pageid=75 for more details. Best regards" Steven 20/11/2013
"Cask ale is to keg what an original painting is to a 100,000-off print. Anyone who prefers the latter must have had their taste-buds surgically removed :)" Jim (aged in the cask for 61 years) 02/12/2013
"Was Stella artois available for sale in England in 1970? I am sure I was drinking it then in The Cricketers pub at Tally Ho Corner,North Finchley.My mates won't have it.They say it wasn't around until the mid-seventies.I really need to clear this up.Thanks." Stephen London 27/12/2013
"Hi Stephen,
Sorry this has taken me some time to track down, but yes Stella Artois was on sale in some Whitbread outlets in the 70s. Whitbread talked initially to Artois back in the 60s but eventually did a deal with Heineken to brew draught lager in Britain. They also sold full strength bottled Heineken as a premium beer, but found that there was confusion with the cheaper (and weaker) draught version. So they went back to Artois in the 70s and started selling bottled Stella as a premium larger. I'm not sure of the exact date, but I think from around the middle of the 70s." steven 31/12/2013
"Thanks for your help.But I need to confirm Stella was sold in England in 1970.I know I was drinking it in 1970,but I can't prove it." Stephen London 06/01/2014
"I was involved in buying for a wholesalers in the 1970's and remember many of the brews mentioned. Along with Colt 45 was an American brew called Hemeling whose advertising was surfing based. I also bought regional beers such as Badger beer and Brock lager in cans.
A popular joke at the time was, "do you have any Colt 45?"
"Sorry, no"
"Okay, I'll have a Luger and lime instead"" Eddie (Leeds) 27/02/2014
"Ahem! sorry to intrude chaps but i seem to remember lagers being originaly marketed towards the female drinker when they started to appear, Orrible gassy stuff it is too, I seem to remember finding Double Diamond on sale in a bar at Margate circa late 1990's i seem to remember making a pig of myself quaffing said beer like a starving man and it was at £1.50 a pint too!, I must say it was a taste of an inglorious past YUM!, I've not seen it anywhere since any ideas chaps? or am i hoping too much for the aforesaid ambrosia to be found anywhere now? *heavy sigh*." Cpt.Beaky 30/03/2014
"I was in the Hyde Park Microbrewery( was the Hyde Park Hotel ) in Plymouth, Devon on Wednesday 16/04/14, and they had Watneys Red Barrel and Ind Coope Double Diamond, keg on sell at £2.50 pt. I asked the bar staff who brewed it and they did not Know or not say.
Any idea ???????????" Bob 18/04/2014
"My dad sent the slogan "The pint that thinks its a quart" for a competition for Whitbread and he never won. Not long after Whitbread where using it." jackie hookham 30/04/2014
"That was one of my favourite ads from the 70s!" Steven 01/05/2014
"There was one particularly awful beer called "Gauntlet" brewed, I think, by Whitbread back in the 70s. Anyone else remember this effort?" Marco 08/06/2014
"Hi Marco,
Yes, I remember drinking 'Gauntlet' in Sheffield in the 70's. Some of the big breweries were there including Whitbread ( they sold draught Gold Label!),
Stones, Wards and some smaller local ones. Our particular favourite with the lads was draught Double Diamond. Yes, I know the real ale supporters would rubbish this beer but I remember when we rubbished real ale supporters! What goes around comes around, I guess." Mike 19/06/2014
"Any one recall Castlemaine 4 X. Think I first had it in the late 70's in the Kingsman,Aigburth,
Liverpool" Gary 25/06/2014
"Many Young people are moving away from strong alcohol - more keen on looking good & keeping fit. Common sense would suggest there is a market for promoting the less strong beers from the 1970's. I would welcome the return of Long Life/D-Diamond/ etc & with right marketing - they could make a comeback" KC 14/07/2014
"Gary,
I remember Castlemaine xxxx all too well as it used to give me one hell of a hangover. Woke up many a morning after with the thought 'never again!'." Jim 28/07/2014
"Does anyone remember PBA light mild that used to be sold in courage pubs in kent .brought up on this great beer but was gutted when they stopped making it and replaced it with Simons bitter YUCK!!" Terry Taylor 30/08/2014
"Can anyone please give any information on a beer dear to my heart from my first night as a student in 1971 when I sampled "Heavy" in Plymouth's ancient Minerva pub. I vaguely recall it being a Courage draught but could be wrong. It seemed exceptionally smooth and dark, akin to mild but not quite a stout. Thanks." David Trigger 31/08/2014
"I have held on to a small bottle of triple A barley wine which I got in the early 70s can anyone tell me what the value of this little bottle could be worth thankyou" Mave 19/11/2014
"Does anybody remember back in 1969-70 Hockey Night in Canada a Molson Export Ale TV Commercial of a young lady singer about 25 yrs old getting out of a limo and into a night club singing "Its a pleasure just being here....."I though she was really damn good but I never heard from here again except for this one TV ad.Can someone answer me thisWho was she and where is she now?" Paul Shtogryn 26/11/2014
"No mention of Newcastle Brown Ale among the brown ales. This is now a world wide selling beer. None other than Clint Eastwood counts it as his favourite beer. Sadly no longer brewed in Newcastle but Tadcaster. Also used to be stronger than it is now. "Dog" was its nickname in Newcastle" Dave Lazzari 03/02/2015
"My memory of growing up was my dad saying, that's not proper ale, I'm 61 now. Watneys Red Barrel, Double Diamond, Tavern, I drank them all and thought they were great. Then someone took me to a Home Ales pub, beer so much stronger, then even better a Shipstones pub. Wondrous time, discovering real ales. You can stick that Watneys!!!" Johnny Evo 06/02/2015
"To add another poignant moment. Watneys Stag Bitter became popular, much stronger, awful stuff, smelt strange, bit like Wards bitter. Never quite got used to that smell." Johnny Evo 06/02/2015
" Does anybody remember the beer company from the 70's that had an array of animals and birds on the beer cans? It is killing me!" Michael 26/02/2015
"I am surprised only one person mentioned "Hemeling", which seemed to become a staple of many pubs. To my shame, I bought my first ever pint of this in The Wheatsheaf, Grimsby at the ripe old age of 13 (and a bit!). Beer off beer always seemed to consist of "Kestral" lager, or Wine from the Woods (supplied in your own lemonade bottle !!), which was cheap sherry and Courage Light in bottles. I am so pleased I found Real Ale in later life." Steve Foster the beermonsters blog 04/03/2015
"Was it TENNENT'S beer cans, I remember they had picture's of female's on some cans" bob harding 14/03/2015
"Do you know the date the Mount Batten pub in Hooe nr plymstock Plymouth close .it Was own by Bass ," John Morton 17/03/2015
"Sorry guys, I have never had a real ale that tasted nothing better than bilge water. The keg beers were wonderfully bodied and tasted absolutely wonderful. Nobody mentioned Whitbread best?" John Martin 20/03/2015
"Can anyone confirm or deny that for a short period Courage changed Directors from a cask to a keg back in the 60's. I seem to recall that when this happened the only place to buy from the cask was in the Hind's Head in Bray?" Roy King 14/06/2015
"As an Aussie in London in the 70's stayed away from the lager and light n bitter was the drink.
Watneys Red thats the best fing yuv said..
Fullers was also around but I was advised to steer clear of it.First return to the UK will be for me next year and reading all the above I'm shattered that there is no real English beer to be had.Pint was 1/11pence." Rex Seacombe 26/06/2015
"Anybody remember Bass Red Label bottled beer, final fermentation in the bottle, half inch of sediment in the bottle. If you asked for it the bar maid would make you pour it yourself because if you were not careful you ended up with a cloudy soup." Mike Povall 04/07/2015
"Beer marketing is mostly about the appearance of the can rather than the quality of the contents. Modern light beers are made to have a shelf life of several years. This even includes selecting the right barley to have the lowest protein modifying enzymes.

Traditional English (and Belgian) Ales have about the shortest shelf life. Dry hopping and multiple brown and stewed (crystal) malts make for a beer that has a shelf life of six months. Such beers should be delivered, in casks, from brewery directly to the pub, to ensure it is fresh." Beer Guzzler 22/07/2015
"Colt45, I used to go to the local pub's off licence and buy 4 to accompany my parent's Sunday lunch in the 70s.I was about ten or eleven at the time. No one ever questioned, funny isn't it how times have changed. I was in Sainsbury's on Tottenham Court Road the other day and the lady at self scan asked me for ID.. I'm 53!!! The Colt 45 which is around today is quite high in alcohol, was this the same stuff sold in the UK in the 70's. Anyone know?" Yorkshire Terrier 24/08/2015
"my intro to beer was a 'brown split'. very
popular when I joined the R.N. in '49 I was still
enjoying it when I left in '57. What was it?" s. adams 03/09/2015
"I am visiting the UK in a couple of weeks and intend trying to get a pint of Brown and Mild, although I don't fancy my chances.
My favourite was Ind Coopes Mild Ale, and Tolly Cobbolds CobNut brown ale." Terry Quinton 12/09/2015
"Enjoyed a pint of Double Diamond in a bar in Margate in about 2003, not seen it since, is it still available?" Bill James 16/09/2015
"In the early 70s I used to Drink Ansells Bitter at the Boars Head, Perry Barr, Birmingham. When the Aston cross Brewery closed it vanished. Is it still available ?" Bryan Powell 10/10/2015
"yup bought a can off Stella 1970 from an " offie " i Surbiton Sry, always saw " Artic Lite " ads on the box,..the huge iceberg breaking...saw the pumps, never tasted..as many landlords said the lager never came up cold, true?..Breaker by charringtons..not bad..Lamot another canned brew,...what about Couage,s " imperial/russian stout "/ loads more I could remember,..." Stan 02/11/2015
"My dad malcome davies made a advert for carling black label in 1971 it was to be aired on candien TV we have never seen this and if anyone has, could u please get in touch as my dad has recently passed away and we would love to try and get a copy off it . It was film at royal Brierley crystal in the West Midlands ." danella 15/11/2015
"I am 62, my first regular Pint was called "Drum Mild", but cannot recall the brewer. It was a dark beer with a nutty, very slightly bitter taste and an easy drink. The price was 12.5p per pint, and in 1971, good value. I could by two pints of Beer, 1 packet of Crisps and one GALLON of 4* petrol and have change from £1. Petrol was 32p per GALLON. I think things were better value back then! I was earning £17 per week which was good money :)) Perhaps it's all relative?" Chris Olney 21/11/2015
"I'm an uprooted Londoner whose college days were the late 60's. Red Barrel, Tavern Keg and Worthington E were beers of choice then. For over 40 years I have lived in New York City where in the last twenty years the effects of CAMRA, the export of trained brewers, has improved things. If anyone from the UK visits the US look for the beers of BERKSHIRE BREWING, 12 Railroad St, South Deerfield, MA 01373. No nasty citric tasting beers here, just great brews. I have no vested interest in this company, but the last three years since I discovered Steel Rail have been much improved. Cheers!" BRIAN BERKE 23/12/2015
"David Trigger (above, 31/8/14) asks about the 'Heavy' he drank in Plymouth in 1971. Heavy was the delicious dark mild brewed by Courage in Plymouth, original gravity 1032, until the mid-1980s." Nick 28/01/2016
"Hey fellow beer lovers! I'm looking for advice... I'm currently directing 'Betrayal' by Harold Pinter... In the first scene one of the characters has a pint of Bitter. The year is 1977, London (probably North London), it's lunchtime... What would he be drinking ? And what would be the modern equivalent in terms of look in the glass? Any help greatly appreciated!" James 29/01/2016
"Stephen,
Love the site. Thanks for some happy and "mildly" unhappy memories from my early drinking days in the 60s and 70s. Now a confirmed real ale consumer but what happened to the days when you could ask for a light and bitter and get a pint plus ++++. Ah happy days.
Pete T" Pete T 14/02/2016
"Long Life was actually a dark lager. Lager doesn't have to be pale, it has to be fermented from the bottom up - Ales are fermented from the top down. I believe it was available 'on draught' in one of Ind Coope's flagship London pubs, it was certainly available on draught in Ind Coope's sports and social club (remember when all big firms had those?) in Burton on Trent. It was a decent drink on draught. Marston's Brewery continued to fly the cask flag throughout the 60s and 70s, they are still going strong, still producing Pedigree Bitter." Paul D 01/03/2016
"I can confirm Youngers Tartan Special is still alive and kicking, both on draught and in cans. In Scotland there is still a demand for "heavy" (keg bitter) on C02 - others include McEwans Export and Tennents Special.....not to be confused with Special Brew, which is another drink altogether! Lol! Most pubs offer a choice of heavy (c02 and smoothflow) so it's easy to find. Sweetheart Stout also still exists, in cans and (pubs only) "nip" bottles x" Lynz 28/03/2016
"What a fascinating read this thread makes, for years we have been told that CAMRA saved the nation from bad beer, and yet many a chap here seems to fondly remember keg ales. My take on it as a man of 30 with no memory of keg is that I find cask to be almost always crap, I can count the good pints of it I have had on one hand, one of my locals has a cask marque plaque outside and yet the ale is so badly kept there that I just drink Heineken. My Dad grew up around south Bucks and went to college in Uxbridge and High Wycombe and to this day still hankers after a pint of keg John Courage which he thinks was just under 5%." Ross 28/03/2016
"first colt 45 when it first appeared [cans only] it was about 6.1 abv now I think its down to around 5.7
cant say I have seen it recently ,

I don't drink larger type beers having grown up with, Fremlins best bitter and Tuska along with Bob lucks cider,[all from Kent] and Alton best bitter together with Alton Directors special reserve [which became Courage best bitter and Courage directors both now brewed under licence by Wells and co of Bedford not quite up to the original but acceptable] I still enjoy going round the country looking for the born again local brews." brickwizard 30/03/2016
"A interesting site someone mentioned double maxim and yes it's still brewed at Houghton le spring I dont think it tastes the same as 30 years ago but I could be wrong ," Mark En 17/04/2016
"I used to drink john smiths dark mild years ago all the time good taste full body,i can remember the good old days" David Lewis 30/04/2016
"Tartan special still available in macintosh's bar clydebank and the station bar Yoker Glasgow. I wish there where more McEwans beers available one the west of Scotland. And recently had a few pints of McEwans scotch in the Dolphin bar Stockton on tees" David logue 03/05/2016
"recently found a bar top light in the attic think its from 70s cannot find anything about it. its called HUNTER BITTER made by william younger & co it has a black horses head in the middle. wondered if this bitter was still about? or was a local bitter for wiltshire?" shirley 20/05/2016
"My Dad used to do the shopping with me every Saturday morning in Abingdon - he called it "the rations". What my Mum didn't know is that we always called on Jim Dymore-Brown, who ran Morlands and was a close friend, where they would have a couple of halves of Mild in the tasting room!" Tim Megaw 28/05/2016
"I have 24 bottles of Tennants Lament, produced 1993 to commemorate the end of Whitbread brewery in Sheffield. I also have a special publication, The Story Of Whitbread' to celebrate 250 years. Anyone know if/where they would sell?" Lottir 18/06/2016
"Hi - interesting article. Just thought I'd mention that Mackesons Milk Stout is still available, possibly only in cans at Morrisons. The rights to the Vaux brand were purhased a number of years ago a Double Maxim is being brewed again (they also have bought the rights to some other defunt NE beers)." Mark 10/07/2016
"Draught beer never showed strength (they still don't have to show ingredients). Keg beers may have started with premium ingredients, but they certainly all became brewed down to a price, less hops, less alcohol. Most people taste with their eyes and advertising sold poor weak bitter: but it was less affected by bad pubs selling it, and it was consistent. When the big breweries started brewing proper, real, beer again it was far better; and is better than 95% of the variable & stupidity flavoured micro brews we get now." Glyn 23/07/2016
"I lived in London in the period, and can remember the beer scene with some horror. 95% of pubs were owned by a brewer, and the rest were Irish bars. Of the tied houses, about 90% were owned either by Watneys, Ind Coope, Whitbread, Courage or Charrington (Bass). A few Youngers pubs (Scottish and Newcastle), and the rest were Young's and Fuller's. The two latter local breweries brewed beer that was cheaper than the Big Six mentioned. This was not meant to be, but the 6 were running an oligopoly and their management were looting the revenue in enormous salaries." Basil 23/07/2016
"PS I forgot to mention Trumans, which brewed in Brick Lane. They were in the same company as Watneys, but had a completely separate public profile. IMHO, their "Ben Truman" was the best keg beer in London. "Watneys Red" was the worst. The latter was just stupidity -the beer was pasteurised, and the brewers couldn't work out how to stop the heating elements burning the beer immediately adjacent. As a result, Red had a nasty cremated flavour." Basil 27/07/2016
"Keg beers in London in the early Seventies:
Watney: Red Barrel, replaced by Red (which was a failure). Brewed in Putney.
Truman: Ben Truman. Brewed in Brick Lane, Whitechapel
Whitbread: Tankard. Brewed in Luton (in the City until 1967)
Ind Coope: Double Diamond. Brewed in Romford.
Bass-Charrington. Worthington E. Brewed in Burton or Mitchells & Butlers in Birmingham. (In Mile End until late Sixties)
S&N. Tartan. Brewed in Edinburgh.
Courage. Tavern. Brewed at south end of Tower Bridge.
Youngs. Youngs Ram Keg Bitter (Yes! It existed. It had a sheep in a perspex cube as a bar fitting.) Brewed in Wandworth.

The best beers in London were in bottle. All the above brewers had a full range, the fullest and best being Watneys: Pale Ale, Strong Pale Ale, Brown Ale, Strong Brown Ale, Dark Barley Wine, Pale Barley Wine, Milk Stout. Favourites: Watney Stingo Dark Barley Wine, Whitbread Poacher Brown (strong), Worthington White Shield (Bass), Courage Imperial Russian Stout.
The first big brand lager in London was by Guinness, called Harp.
Bass took over two London breweries in the early Sixties, Charrington and Wenlock. The latter's pubs had the right to sell bottled beer from Tolly Cobbold in Ipswich, and their Pale Ale was still to be found in some in the early Eighties." Basil 07/08/2016
"Courage Directors. The finest pint of this I ever had was...on a CAMRA brewery trip to the now closed Courage brewery in Bristol. The Keg version of Directors was John Courage, or J.C. as it was known. There was an early 70s Courage Keg beer known as Full Brew, with the advertising slogan "Same again Bert" It was introduced by their then head brewer Roger Walkey. Not a success and withdrawn." Steve 12/08/2016
"I used to drink Ben Truman mid seventies, Yeovi British legion fantastic pint" GRANFIE 06/09/2016
"We had two main chains in Hull in late 80s. Bass and Mansfield. Hull brewery had been strong,but closed at that point. Bass, bass mild and stones all on hand pull were all very popular. I enjoyed them but a well pulled pint of Bass mixed(bitter and mild) was nectar" AJ 10/09/2016
"Carlsberg released V-Beer, the original name of Special, when Churchill visited Copenhagen in 1950. A case was given to him, and the brewery then sent him cases of Special brew from then on as it was his favorite beer.

One BIG advantage of thin lagers is the big reduction in numbers of whopper beer bellies. I now only drink my own fully attenuated apple cider." Rowan 13/09/2016
"I used to drink in the railway club in Brighton, a pint of Mann's Brown and Drum mild, nectar.Does anyone remember the more exotic drinks of the time like Biarritz or Pony." Alan 05/10/2016
"Does anyone remember there being keg Bass in the late 60s/early 70s? I worked at the Thistleberry Hotel in Newcastle-under-Lyme and am sure that they sold keg Bass and draught Worthington E.
My mates tell me it was the other way round and my memory is failing." John Godwin 08/10/2016
"Anyone remember Marstons Merry Monk Mild from the early 70s? Wonderful taste .Found it in a pub near Birmingham several years later-it was foul... G" JOHN HUDSON 13/10/2016
"They still sell Toby light in some clubs its brewed by Marstons these days. I worked in a Tetley pub in the 70s and the bitter was delivered by tanker pumped into tanks." Michael Moran 24/10/2016
"hi, does anyone remember a beer from the 70s called BREW X , ( 10 or Ten ), that's all I can remember the name , had it in Blackpool" lloyd 11/11/2016
"Came across this web-page while Googling for Whitbread Trophy in cans, and it has prompted the following diatribe. please ignore if easily bored! :-)

I'm from Sunderland, and had the great pleasure of working for Vaux Breweries for a shade over nineteen years, from 2 April 1979 until 1 May 1998. I was never involved in the production process, as I worked in IT, but I WAS selected for the taste-testing panel (it's a tough job, etc.) at a time when you first had to go through a blind tasting session to prove the sensitivity of your palette! Rightly or wrongly, then, I reckon that entitles me to pontificate a bit! :-)

I've been boozing in and around Sunderland for well over thirty years. Although I never used to mind lager (and can even remember a period during the early eighties when the landlord of the Royal Marine in Sea Road, Fulwell, which was then a Tetley's pub, kept an especially nice pint of Skol), I've always preferred ale. I'm fortunate not to mind how it is brewed, cellared, or dispensed, and regardless of whether it is cask, keg, bottled, or canned, I could name you excellent ales, terrible ones, and all points in between. In my experience, however, most ales tend not to translate well from one form to another. For example, Vaux Double Maxim (a far superior bottled brown ale to a certain higher-profile rival I COULD mention, and still brewed today by a company that ex-Vaux employees, some of whom are known to me, founded) is fine in bottles and cans, but the cask version is comparatively poor.

Keg ale was to the fore at the start of my drinking 'career', and particular favourites of mine were Vaux Samson, McEwan's Best Scotch, Newcastle Exhibition (occasionally), Federation Special, Whitbread Trophy, and Bass Stones. Cask Bass ale was very rare in those days, but nice when you could get it, and after the eventual cask ale renaissance, good old stalwarts like Theakston's Old Peculier, Greene King Abbot Ale (the stronger Abbot Reserve is also very nice), Ruddle's County, and Flowers' Original became part of my staple diet!

Sadly, with the exception of Stones, all of the keg ales I have mentioned are no more, and have largely been replaced by John Smith's and/or Boddington's bitter, both of which I detest (I used to enjoy SAMUEL Smith's 'Old Brewery' bitter and bottled brown ale, but there was only one Samuel Smith's pub that I knew of in this area, and I'm pretty sure it no longer exists bloody typical). An earlier poster mention that the Rosedene pub in Sunderland still sells Trophy and, in fact, that is where I enjoyed my last pint of a that wonderful brew. Sadly, I am writing this two days after a friend of mine, a regular in the Rosedene, informed me that the Trophy has been taken out and replaced by... you've guessed it... John Smith's! Bloody sacrilege!

As for cask ale, I think it has been a victim of its own success, in that too many micro-breweries are jumping on the bandwagon to produce what amounts to glorified home-brew... and we all know how rank THAT can be! Most pubs seem to be going for a 'scatter-gun' approach regarding the choice on offer, too, resulting in a bewildering selection of Mickey Mouse ales you've never heard of and on the rare occasion that you DO find one you like, chances are that it will have been replaced by something else the next time you visit that particular pub!

I don't think I'd call it a 'success' of CAMRA at all that most classic keg ales are now extinct! Indeed, it's almost certainly thanks to that 'success' that the same can be said for many classic CASK ales, too!

Rant over! :-)" Kevin Snowdon 13/11/2016
"Just a few further thoughts following on from my previous missive yes, unbelievable as it may seem, there IS more!

Just been doing a belated bit of mental arithmetic, and realised that I've actually been boozing in and around Sunderland for over FORTY years! How quickly the time flies!

Of the new(er) breed of more mainstream cask ales, Sharp's Doom Bar has become a favourite of mine. The Forth in Newcastle keeps an especially nice pint.

As for most ales not translating well from one form of production or presentation to another, honourable mention must go to Abbot Ale, which I find to be every bit as full-flavoured and smooth in cans as it is on cask. If Greene King can achieve this, then surely anyone can, so I live in (probably forlorn) hope that Theakston's will one day pull off the same trick with Old Peculier, the over-gassed, bottled version of which bears no resemblance to what, for me, is THE 'cask ale from the gods'." Kevin Snowdon 13/11/2016
"I started putting it away around 35 years ago and my memory of those mass produced keg bitters is not good. The thought of a pint of Greenhalls or Whitbread makes me wince. Awful tasteless stuff from brewery's pandering to fizzy lager drinkers. Luckily I lived in a place where Holts, Hydes, Robinson and Boddingtons served up proper beer (the fella moaning about Boddingtons should know the Boddingtons brewery is now a car park, the name is basterdised) so I always had an alternative.
If you don't like beer you can still buy the likes of John Smiths or Tetleys Smooth pretty much everywhere so everyone is a winner ;)" ChorltonWheelie 03/01/2017
"Hi,did Newcastle Brown ever do a half pint bottle years ago,there's an argument going on in my local some said yes they did quite a few years ago others said no they never did Newkey in half pint bottles.Please could you put this argument to bed." Joyce Reed 11/02/2017
"Double Maxim is a superb brown ale I like both the bottled and draught versions of it. Its brewed by the Maxim Brewery in Houghton -Le-_Spring city of Sunderland and they also brew DM's big brother Maximus which is also a lovely pint but be warned its 6%!" Tony Ratton 23/02/2017
Retrowow
Your guide to vintage and retro