Vintage Echolac attaché case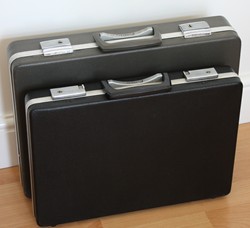 A smart attaché case is essential for business people. When Samsonite launched the Samsonite Classic in 1962 it defined the look of the modern attaché case.
Japanase business leaders were good at taking American ideas and making them their own. They had done so with transistor radios in the 1950s. Reizo Koseki of Kodama Chemical Industry Co Ltd saw an opportunity to do the same with luggage. Kodama registered the Echolac trademark in 1965. It covered bags for travel: suitcases, tote bags and attaché cases. [1]
Echolac claims to have made the world's first ABS (Acrylonitrile Butadiene Styrene) attaché case in 1965. ABS is the same material that is used to make Lego.
The claim is plausible since the company was in the chemical industry and it registered the Echolac trademark in 1965. But, I have only seen advertisements for Echolac cases from 1967 onwards [2].
Echolac cases were made from moulded sheets of Kodoma Chemical's ABS. The advertisements claimed that they were shock-proof, heat-proof and weather-proof. The original cases had a leather look finish.[2]
Echolac sold cases in the Asian market in the 1960s. I have seen them advertised in Singapore, Taiwan and the Philippines, as well as Japan. They did not sell in the USA or Europe in the 1960s.
The Echolac attaché cases looked similar to the Samsonite Classic, though the first Samsonite case used PVC not ABS.
The original Echolac range was the KN-8. They are primative by modern standards. There is a removable PVC folder which contains spaces for pens and business cards. The inside has a brushed nylon finish.
Echolac cases found favour with politicians. The Australian Senator, Neville Bonner, who was the first Aboriginal Australian to become a Member of the Parliament, had an early Echolac case. See artsandculture.google.com/asset/briefcase-belonging-to-neville-bonner.
Echolac introduced several different models in the 1970s. When Samsonite introduced the Classic 100 with a combination lock in 1972, Echolac matched it a year later.
Original model - c1965-1972 - KN-6, KN-8, KN-11
1970 - KN-308 - sloping sides at the top, automatically closing lock
1972 - KN-211, KN-216, KN-218 - restyled with improved interior
1972 KN-6, KN-8, KN-11 all get new automatically closing locks
1973 KN-308C, KN-218C & KN-222C introduced with combination lock
1976 - New range called 'Standard', 'Executive' & 'Deluxe'
Buying an Echolac attaché case
I sourced both these cases on eBay. They are quite rare. This my eBay pick: Echolac cases on eBay
Refereneces
[1] Official Gazette of the United States Patent Office, volume 906, page 265, January 23 1973
[2] Advertisement in Liwayway Magazine, published in the Philippines in 1967
[3] Japan Times 20 May 1968
Add your comments
Comments
No comments yet. Be the first!