Television in the 60s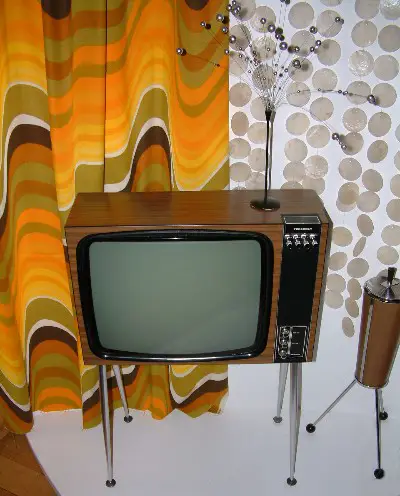 Television became a universal habit in the 60s. Cinemas were closing in large numbers and there was good reason to believe that the small screen would destroy the cinema entirely. By 1960, nearly three quarters of the population had television, and by the end of the sixties, nearly ninety-five percent.
Britain only had two channels in 1960, BBC and IIV. A third channel BBC2 arrived in 1964. It was broadcast on 625 lines UHF, older sets could only receive 405 lines. BBC1 and ITV were still broadcast on the old band. In the mid sixties sets were sold that could receive both. The public were less keen on BBC2. Programmes were more high-brow. Consequently, take-up was slower than had been for ITV in 1955.
By the mid sixties, viewing habits had not changed significantly except for "Top of the Pops". The top five BBC programmes for that year were:
1. Dr Finlay's Casebook (9.15pm Sunday)
2. Black and White Minstrel Show (7.50pm Saturday)
3. Top of the Pops (7.30 pm Thursday)
4. Perry Mason (9.25pm Monday)
5. Z Cars (8.00pm Wednesday)


This is a typical Saturday's viewing from 1965 (24 July)
BBC1

5.15 Juke Box Jury
5.40 Dr Who: Checkmate
6.05 News, weather
6.15 Cricket
6.35 The 1965 Royal Tournament
7.20 Western
8.50 Summer Comedy Hour
9.55 The Flying Swan
10.40 News
10.50 The Andy Williams Show
11.40 Weather



BBC2

6.55 News
7.00 Sport of the Day
7.50 Montreux Festival 1965
8.20 The Big Stride
8.45 Legend of Death
9.10 Cinema 625
10.40 News Summary
10.42 Late Night Line-up


Midland ITV (ABC)

1.10 Summer Sport (Water skiing, racing, athletics,
motor-racing, wrestling)
5.5 Sports Round-up
5.15 Sir Francis Drake
5.45 News from ITN
5.50 Lucky Stars - Summer Spin
6.30 Opportunity Knocks
7.20 Hong Kong
8.15 The Best of Morcambe and Wise
8.50 Hawaiian Eye
9.40 News
9.50 Ghost Squad
10.45 Mainly Millicent
11.20 ABC Weekend, weather, Epilogue Close Down

London ITV offered the same schedule except:
5.15 - 5.45 The Forest Rangers
7.20 The Saint
8.15 The Great Van Robbery
9.20 The Best of Morecambe and Wise
10.00 News
10.10 Undermind: Onset of Fear
11.5 Milligan's Wake
11.35 Four Just Men, weather, Epilogue.
Yes that's right television on BBC1 started at 5.15pm - although in other months "Grandstand" would have been shown on Saturday afternoon.

The "Western" on BBC1 was "Flame of the Barbary Coast" staring John Wayne and Ann Dvorak. "The Great Van Robbery" was a film about a daring robbery of a Royal Mint van. BBC2's "Cinema 625" was a Czech film called "Transport from Paradise" about concentration camps.
The "Summer Comedy Hour" BBC1 (8.50pm) was a play "Almost a honeymoon", by Walter Ellis. It made it's debut in the West End in 1930. In 1965, a play written in 1930 would have been considered old fashioned, rather than nostalgic. ITV's offering "Undermind" was a thriller about a sinister organisation that was trying to disrupt Western Society. This kind of theme was fairly common in sixties film and TV. At 7.20 on ITV London you could see "The Saint" staring Roger Moore.
Man walks on the Moon - in colour
Colour television was first broadcast at the end of 1967. In this era colour television sets were very expensive and take-up was slow. Originally colour could only be received on BBC2 - ITV and BBC1 were first shown in colour in 1969. In 1969, BBC2 viewers were able to see shots from the Moon in colour. The Moon landing itself was broadcast at 3.56am on a programme hosted by Cliff Michelmore, James Burke and Patrick Moore. Coverage had begun at 11.30pm the previous night and continued throughout the night - a real rarity in this era.
In 1969 the BBC was busy converting existing programmes to colour - "The Troubleshooters", "The Doctors", "Z cars" and "Softly, Softly" all went out in colour that year.
Article by Steven Braggs, 2006
Add your comments

"Hi I need some information on the author, could you give me the name of the author and the year this was published?

It's for a dissertation I'm writing, for the referencing.

Thanks" carys bulmer 11/11/2015
"Hi I need some information on the author, could you give me the name of the author and the year this was published?

It's for a dissertation I'm writing, for the referencing." Eva Maysonnave 22/03/2018
"Hi, I can't remember the exact date that this page was published, but it was one of the first. The website started in 2006. All the best" Steven 28/03/2018
"which english acter played Uncas, in the series Last of the Mohicans,in the l960s my dad would not let me watch the final episode, l never forgave him for that, same with the series on Tom Browns Schooldays, television series, l never did see the last episode of that one either." melody collis 29/01/2019
"Slight correction:
Colour television 1st started with the Wimbledon tennis tournament in June 1967 (BBC website). I remember being astounded seeing a colour picture for the 1st time live from Wimbledon in a 'Radio Rentals'shop window." Neville Mason 03/03/2019
"I have to correct you with regards to BBC 1 here. Programmes on BBC One this Saturday did not start at 5.15pm - BBC 1 at 11.20am with Noticeboard: Public Service Announcements. 11.25am Live Test Match Cricket. 1.30pm Summer Grandstand, airing a whole afternoon of sport with horse racing, cricket, swimming and showjumping. Regular prime time schedules would then commence at 5.15pm with what you wrote here. I hope this helps and corrects the details." John King 02/02/2020
"Grandstand was always broadcast on Saturday afternoons all year round, however on a Saturday morning there was usually at least one closedown/trade test transmission of Test Card E and later F until July 1974." Andrew Swift 30/03/2020
""Summer Grandstand" was simply the title they used for the regular Grandstand, it did air all year round, but from June until early September it was renamed Summer Grandstand. Sporting coverage on television was one of the few programme genres of the 60s which did not come under the tightly controlled limits on the amount of hours per day the television channels could air. In 1966 for example, 7.5 hours was allowed for a typical Saturday, with sport exempted under an outside broadcasting quota per year." John King 05/04/2020
"Television hours in the sixties was tightly controlled by the government under the direction of the Postmaster General. Broadcasting hours of regular programming was limited to a 50 hour weekly limit, meaning 7 hours allowed per day Monday to Friday, 7.5 hours per day on Saturday and Sunday. However the Postmaster general did permit exempted programming to be exempt from the daily allowance. Programming exempted were programmes for schools, adult education, religious programming (live or recorded), Welsh language programmes, state occasions and presentation. Live sporting events and other Outside Broadcasts were given their own separate quota of hours allowed per day. By 1966 the allowance was set at 350 hours per year, BBC and ITV both had 350 hours per year each to use for sporting/outside broadcast coverage. The government control on television broadcasting hours were gradually increased in 1968 and 1971 before being totally lifted in 1972." John King 09/05/2020
"I am looking to view a programme of me and my family filmed in beswick Manchester 1967 ish , it contains my late mother and my dad is 93 , I would love to see it , we didn't have bbc2 so never saw it , I am also on it" Julie glass 03/06/2020
"On 1 July 1967, BBC Two officially became the first channel in Europe to transmit in colour. The debut colour programme was an outside broadcast of Wimbledon, featuring the Men's Singles match between Cliff Drysdale and Roger Taylor." Jonathan Hawes 16/07/2020
"In the mid 1960's ATV provided the Saturday and Sunday ITV service in the London Region with Rediffusion providing the Monday to Friday service. ATV also served the midland region Monday to Friday, ABC being responsible for the midlands weekend service." Trevor 15/02/2021