Western Electric Model 500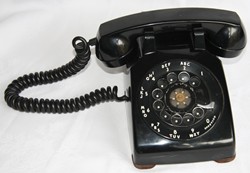 The phone on Mad Men's Donald Draper's desk is a Western Electric Model 500. This telephone has an impeccable design pedigree. It came from the design office of Henry Dreyfus. Dreyfus was one of the leading lights in the design world in 50s' America. He, along with Raymond Lowry and Walter Dorwin Teague, virtually created the design profession. All three were regarded as celebrities.
Dreyfus did not actually design the 500 series phone himself. Former Bell employee, Robert Hose, did the actual detail work.
The model 500 phone was first available in 1951. At that time it must have looked remarkably modern. These phones were also built to last. Bell wanted them to last as long as possible, so that they could recoup the initial cost in rental charges many times over.
The Western Electric 500 was unobtrusive and modern. It fitted perfectly with the minimalist world of the glass fronted New York office buildings. Originally supplied in whatever colour you liked, as long as it was black, the 500 series was later made in a range of colours. This iconic design remained in production until the mid 80s. It also must have inspired the 706 telephone design for the GPO, which entered service at the end of the 50s.
Buying a Western Electric Model 500
In spite of being an American phone, the Western Electric 500 does turn up very frequently on eBay in the UK. Prices vary significantly. Early models in mint condition can go for well over £100. However, a decent restored example can be bought for £50 and unrestored, models in good condition for less than £20, although you will probably have to budget for shipping costs from the US.
See
Resources
Check out this site for loads of detail about all the different variants - www.paul-f.com/we500typ.htm
Wikipedia page - Model 500 telephone on Wikipedia
Your comments
Comments
No comments yet. Be the first!