Phoenixphone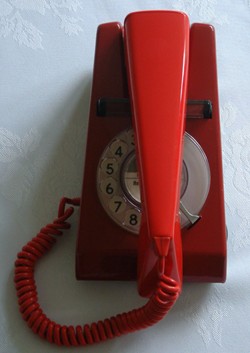 The red trimphone, or Phoenixphone, is regularly seen TV in modern programmes set in the seventies. I have seen one on 'Life on Mars', which was set in 1973, and recently on 'Margaret', a drama about Margaret Thatcher's final days in office. However, not in the heady days of the late 80s, but in a flashback scene from 1975 when she first challenged Ted Heath for the leadership of the Conservative Party.
This two-tone red phone simply screams 70s, though it first went on sale in 1982. So the programme makers got it wrong. 'On sale' is the key point here. This garish version of the GPO's original pastel shaded statement of high-tech sophistication from the 60s was one of the first phones you could actually buy, rather than rent from BT as it was in 1982. The Trimphone was given a new makeover for the new decade.
These new phones were available, not only in delightful two-tone red, but in olive green/beige, two-tone orange, black/grey, light green/mid green and cream/brown. Lord Snowdon, former husband of the late Princess Margaret, is said to have had a hand in picking the colours. Hence the range is also known as the Snowdon Collection.
It may very well be that these phones were what the GPO should have been making in the 70s and the likelihood is that they were made from recycled parts from that era, but instead they spearheaded the brave new world of the yet to be privatised British Telecom. Two-tone red did not look too bad in the early 80s either, as toy box colours were in. The two-tone red phone looked great with bold diagonal striped wallpaper and black and white striped sofas. The first few years of the eighties were ultra modern. It was just the thing for the aspiring Yuppie, before the mobile phone came along.
Phoenixphone references
For more on the Phoenixphone see web.ukonline.co.uk/freshwater/t722.htm.
Your comments on the Phoenixphone
"Looking for a wall mounted trimphone, where would be the best place to look, Kind Regards, Brian" brian sharpe
Trimphone are not normally wall mounted, but there was a kit available, kit number 422a. There are more details on web.ukonline.co.uk/freshwater/t722.htm. You might be able to get one on eBay, or a Trimphone that had been converted to wall mounting. Retrowow
" 'Screams 1970s'? It doesn't to me. The design echoes the 1960s trimphone, but looks '80s enough to me. Why do people keep talking nonsense about the 1970s? The '60s were where it was at! There's something illogical and '70s hyping at work on this site." Maria
"I have a trimphone which is covered in red leather, including handle, with push buttons. It looks like a professional job. Its years old, used to be my father in laws, but has an odd sort of plug on it. Have you seen any more like it? Thanks for any info." Jane
Hi Jane, Yes, these were known as the Deltaphone. They were supplied by the GPO, from around 1980, in brown leather as an upmarket version of the Trimphone. The Deltaphone deluxe was similar, but available in red or green leather. The plug looks like an early attempt at an unpluggable phone. Retrowow
"I'd have a look at this if you thought it was an 80's phone www.telephonesuk.co.uk/phones_1960-80.htm" Paul T