200 series telephones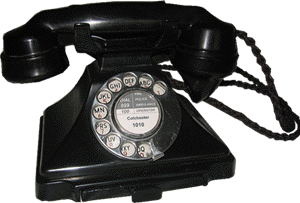 The telephone service in the UK in the 1930s was operated by the Post Office. It was a state monopoly. Automatic dialling was in its infancy and many lines were still served by manual exchanges; there was no dial, you had to pick up the receiver to call the operator. In London and major cities, however, automatic exchanges were common and you could call numbers on other exchanges using a code made up of letters.
Telephones in the 1920s and 1930s were a luxury product similar to the usage of mobile phones in the 80s. The 30s' equivalent of the Yuppies, the Bright Young Things, used them regularly. For the majority of people their only experience of a using a phone was in a public call box, or using one in the course of their work, as might secretaries or clerks, or maids and butlers answering the home phones of their employers.
Before 1929 there as a huge range of telephones in use ranging from the Art Nouveau inspired 'Skeleton' phones which exposed their works, to phones encased in polished wooden cabinets and the classic 'Candlestick' phone seen in many period dramas. By 1929, the Candlestick was standardised as GPO Telephone 150.
Art Deco, Bakelite and a design by Siemens Brothers Ltd brought the look of British telephones bang up to date in 1929. The new design, the Neophone, resembled a pyramid with some classical touches.
It was perfectly in tune with the Art Deco period and with Sir Giles Gilbert Scott's original red telephone kiosk, the classically inspired K2, and more so with his 1936 revision, the K6 from 1936. However, it came in an age when most people preferred antique or reproduction antique to Art Deco or Georgian inspired design and must have appeared as a high tech interloper in many peoples' houses . Many customers had a nostalgic liking for the old Candlestick design.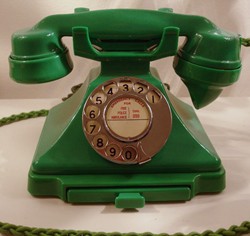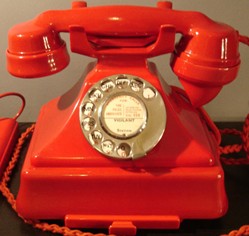 You see will see these phones in many classic films. Edward Fox had a white 232 in his flat in the film 'Day of the Jackal' (1973) and the 232 was also the phone used to receive the fatal call in Dial 'M' for Murder.
The Neophone did not have an internal bell. You can get these phones mounted on a bell set which sits below the phone. Phones with this bell set are referred to as 'King Pyramids'. Otherwise you will need to get an external bell for it.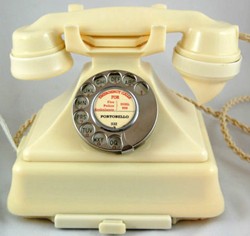 The General Post Office (GPO) could provide some limited instructions and a list of dialling codes on a few sheets of paper, so the phones were given the distinctive cheese-tray pull out drawer.
The GPO helped develop the Neophone in co-operation with Siemens. By 1931 Siemens' factory in Woolwich had supplied over 100,000 units and the GPO placed a massive order for 200,000 phones in 1932. An improved version, the 232 replaced the original version in 1934.
These phones were made in black, white, red and green. Black is by far the most common. The red and green phones are much rarer. The white phones are difficult to find in good condition because the plastic deteriorates quite badly. GEC also manufactured the 200 series phone, but called it the Gecophone.
200 Series Models
The original model was known as Telephone 162. It was later replaced by an improved, but cosmetically similar version, the 232 in 1934. The 232 had improved circuitry. These phones were still in use well into the 50s and some surviving into the 70s.
GPO Telephone 162 - introduced 1929
GPO Telephone 232 - introduced 1934
GPO Telephone 1/232 - a 232 with a pull out drawer base
GPO Telephone 2/232 - a later model with improved circuitry
Phones with lettered dials were known as 162L or 232L and those with only numbers 162F or 232F. Phones with the classic lettered dial with black numbers and red letters were used in areas that supported lettered telephone exchanges, known as 'Director' exchanges. The first Director exchange opened in London in 1927.
What to pay
Prices of these phone vary enormously. Red and green ones in perfect condition can fetch well over £1000. Phones with cracked or damaged Bakelite in black are worth less than £50.
Green in excellent restored condition - £1500 to £2000
Red phone in excellent restored condition - £1000 to £1500
Ivory phone in excellent restored condition - £400 to £850
Black phone in excellent restored condition - £130 to £250
Black phone in good condition - £80 to £130
Black phone in need of restoration, may need some parts replacing, but case intact - £50 to £80
Black cracked or damaged phone - up to £50
Extras such as the cheese-tray drawer underneath the phone and the bell set will add to value, as well lettered rather than numbered dials.
Check out our price guide for more advice.
Look for 200 series telephones on eBay
Resources
Old Telephones (Shire Library)
is a good introduction to early telephone design in the UK.
Read Bob Freshwater's excellent page Collectors information for Pyramids on how to spot a fake. See also Telephone No. 232 for some detailed information about the 232 and its history.
Your comments