New G-Plan Fresco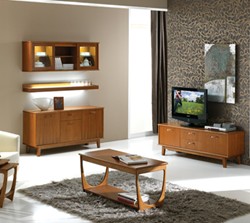 G-Plan have relaunched Fresco for a new generation and it looks great. Fresco, originally introduced in 1966, was a new G-Plan teak range with sculptural style emphasising curves rather than straight lines. It was G-Plan's most successful range and remained in production for many years. The new Fresco has a large dose of retro and builds on the original range.
I can't fault the quality of the new Fresco. Traditional G-Plan virtues, such as drawers that open and shut easily, are there. The teak finish is of high quality and has a good grain pattern.
The new Fresco will fit well with a retro look, but it is also up to date. A flat screen TV won't look out of place in a G-Plan lounge.
There are some old favourites in the new range. There is a new interpretation of the famous Astro coffee table by V B Wilkins from 1969. However, the new range is not a direct copy, it is more of an evolution of the original Fresco.
If you have some original G-Plan, you can now complement it with some new pieces that won't look out of place. Alternatively, buy some new basics and add a bit of character with a some vintage G-Plan furniture. Whichever way you do it, the new and old will look good together.
This is my pick of the new G-Plan range:
New G-Plan Fresco sideboard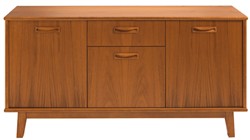 The new G-Plan Fresco sideboard is finished in teak. Teak is a wood with a distinctive grain pattern, it is used to good effect in the sideboard. The handles look similar to the original Fresco range. There is a homage to G-Plan's fifties origins with the splayed leg look of the sideboard.
As you would expect from G-Plan, drawers and doors open smoothly.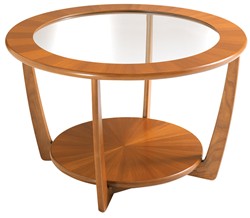 New Fresco coffee table
One of G-Plan's classics was the Astro coffee table. Until recently you would have to buy a used one if you wanted this classic style from the late sixties. Now it is available new again.
The new Fresco coffee table has evolved from the original. It adds a shelf for newspapers and magazines, which is a nice practical touch.
There is a choice of circlular or oval coffee tables with either plain or glass tops.
More on the new Fresco range
Visit G-Plan Cabinets - Fresco for more details on the range.
Add your comments on the new Fresco furniture
"Hi

Think I've just bought an Ercol colonial style dresser - it has the date 1969 on one of the drawers inside, but it also has a carved & sign on the back. Can you please let em know if this means anything? What is the Ercol mark" Kev 29/08/2010
"Fresco Bedside cabinets.
Do G-Plan make or plan to make in the future Fresco bedside cabinets?" Rosemary Waller 28/07/2012
"Hi Rosemary,
I've just looked on G-Plan's website www.gplancabinets.co.uk, they don't have any bedroom furniture in Fresco. You can of course get original pieces on eBay. G-Plan do seem to be downplaying Fresco on their site. I wonder if they will be stopping it soon. Pity..." Steven 29/07/2012
"You have a picture inthe top right corner of this page with a long coffee table on a grey rug. I am looking for that very coffee table. Could you please get me that coffee table, I have been trying to purchase it and can't get it anywhere." Julie bowerman 14/12/2014
"This is table from the new G-Plan Fresco range. They don't seem to do it any more. I can't see any for sale on eBay either.

It might be better to buy a genuine Fresco table from the original range. You will find plenty of those for sale on eBay.

best regards" Steven 14/12/2014
"I am very interested in buying a g plan coffee table in teak. Is there any way you can help me. Please." Julie bowerman 15/12/2014
"Hi Julie,

I would recommend buying on eBay. You will find the best prices and the best selection. Go to http://www.retrowow.co.uk/retro_style/furniture/g_plan/g_plan_coffee_tables.php and follow one of the links.

best regards" Steven 15/12/2014
"Hello

I am looking to buy an original G PLAN Fresco 2 drawer console table do you have any or know where I can get one from please?" Sue walker 07/01/2017
Retrowow
Your guide to vintage and retro