Retro bathrooms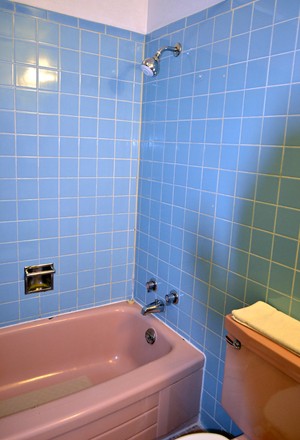 Coloured bathroom suites are tipped for a comeback this year. So if you are bored with your white bathroom suite, then it might be worth waiting a little while if you are thinking of updating your bathroom.
Retro style has been popular in most rooms of the house for a number of years, however, the retro bathroom has yet to appear. I have seen a few half-hearted attempts at a fifties or sixties style bathrooms, but they all lack the vital ingredient: the coloured bathroom suite.
60s bathroom suites
In the sixties, coloured suites were all the rage. White was boring. Blue was a popular colour in the 60s. Other favourite colours were pastel shades of turquoise, pink, green or yellow. Although most people think of sixties' colours as lots of psychedelic patterns, pastel shades were popular in the home for most of the decade. Understated modernity was the look.
Bathroom designers in the sixties concentrated on the shape and style of the fittings, as well as the colour. Elegant, slim pedestals for the basins were popular. In some cases the pedestals were precariously thin. Round basins were popular. The overall look was modern efficiency with a hint of style.
White bathrooms were still fitted in the sixties. It was often the cheaper option. Usually the builder would fit a white bathroom suite in a new house unless the buyer wanted to pay extra for something different.
There was a fashion to have modern style taps in sixties' bathrooms. Very few original taps have survived. If you do have a 60s bathroom, it might be worth getting the taps re-chromed and the washers replaced.
Buy coloured bathroom suites
If you want a coloured bathroom suite to create a retro look, or you want to replace a basin or a bath, but don't want to throw away the whole suite, then eBay is a good place to look. There is a good selection of secondhand bathroom suites in pink, blue, green or turquoise. You might also find some peach, avocado or burgundy classics there.
See also:
Your comments
Comments
Looking for a mid to dark blue/teal toilet please? Ideal standard Michaelangelo would be our favourite but anything 60s/70s style would be welcome. If you own or spot one please email natashahart@hotmail.co.uk
Hello I have two Villeroy Boch bathroom suites coming available both in excellent condition and care will be taken by bathroom fitters on removal. One pink which comprises of back to wall toilet, large pedestal basin and bidet. The other one is pale blue and has a large deep bath, back to wall toilet and a large pedestal basin. Matching taps, wall lights and accessories and some new unused Villeroy Boch tiles too. Buyer collects only. 07493232517