80s fashion
Fashion in the 80s gave people more choices than ever before. The decade began with the aftermath of Punk, which turned the fashion world, as well as the music world, on its head. At the beginning of the 80s, the New Romantics took their influence from historical costume and both men and women wore outrageous make up. Later power dressing became essential for the career woman. Everyone was into designer labels and a new fashion phenomenon, Next, opened up on the high street.
After Punk
By the early 80s, Punk was on the wane. Those who originally adopted the style had already moved on by the late 70s. However, Punks were still seen in shopping precincts up and down the country and largely ignored by passers by.
Punk was now cliché for rebellious youth. Punks featured in bank commercials and BBC documentaries, as well as Kenny Everett's Gizzard Puke. Punk parents were now bringing up children and living conventional lives.
Some young people adopted the Mod look of 60s Carnaby Street, inspired by the original Mod revival band, the Jam. Others adopted a look inspired by the 50s, known as Rockabilly. The severe, 50s derived flat top hairdo became popular for some young men. The next big fashion after Punk drew inspiration, not from the fifties, but from several centuries ago.
New Romantic
The New Romantic look most associated with 80s fashion began in the late 70s. It was a reaction against Punk and an opportunity to dress up and do your own thing. Early practitioners of the style were George O'Dowd, who later became famous as Boy George of Culture Club and nightclub host and promoter Steve Strange, who later fronted the pop group Visage. At this time the New Romantic look was a fringe activity seen only in some extreme, trendy London clubs. Most youths were still into Punk, Mod or Rockabilly or still wearing flares.
Vivienne Westwood and Malcolm Maclaren transformed their original Punk store at 430 King's Road. They completely rejected Punk and renamed the store 'World's End'. It specialised in Westwood's new pirate look, derived from 17th century pirate costumes.

New Romantic music and fashion became more mainstream youth culture in the early years of the 80s. It was typified by loose fitting clothes, asymmetric hair cuts and excessive make-up, worn by both men and women. The link between music and fashion was strong. New Romantic fashions were displayed by Adam and the Ants, Visage, the Human League as well as Culture Club.
Nostalgia
The clothes worn by the Princess of Wales had a impact on fashion throughout the 80s. Her wedding dress, by Elizabeth and David Emmanuel, from 1981 evoked an earlier era. The Princess' early 80s wardrobe became a blue print for the female Sloane Ranger.
Dynasty and shoulder pads
The glamorous look of stars such as Joan Collins from Dynasty had a major impact on fashions throughout the 80s. Designers Claude Montana and Thierry Mugler introduced shoulder pads to women's fashion as early as 1978. However, it took stars such as Joan Collins, who played Alexis Colby and Linda Evans who played Krystle Carrington in the American TV series Dynasty to popularise the style. By 1985, shoulder pads were everywhere and even men's suits started to feature them. They changed the female silhouette, making the shoulders broader and the hips appear narrower.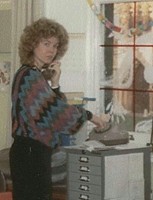 This trend fed into another 80s fashion: power dressing. Women wanted to feel the equal of men in the world of business and dressed to assert their authority. The business suit with wide shoulders became essential for any female Yuppie's wardrobe.
Designer labels
In the 80s, designer labels were essential for a fashionable wardrobe. Everyone wanted to look as if they had made it in the 80s and a designer outfit was the way to do it.
Fashion designer Paul Smith had a huge influence on the way men looked in the 80s. His suits defined the 80s look at the top end of the market. Paul Smith's store captured the spirit of the era. Discerning customers could also choose accessories such as Filofaxes to go with their new outfit. Both David Bowie and Brian Ferry bought suits from Paul Smith. Italian designers, such as Gianni Versace and Giorgio Armani, were also favourite choices amongst fashionable men.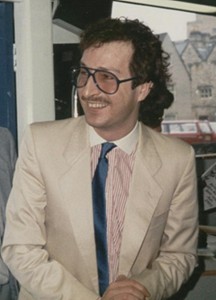 The 80s suit was totally different from the 70s: flares disappeared; trousers were straight legged. Turn-ups returned in the later years of the 80s and in the second half of the decade, the double breasted suit became popular.
Thin ties were in. A fashionable touch was a striped shirt with a white collar, as seen right, worn by then Radio 1 DJ, Steve Wright in 1985.
Polo shirts were not worth having unless they carried a designer label, such as Lacoste or Ralph Lauren. There was a trade in fake labels to sew on cheaper shirts to look like the real thing. Raincoats had to be by Burberry. For leisure wear Timberland deck shoes were essential for men, with a pair of Ralph Lauren Chinos and an appropriately expensive and labelled polo shirt.
Women too, went for Burberry or Aquascutum raincoats. Designers Giorgio Armani, Jasper Conran, Zhandra Rhodes, Bruce Oldfield, Jean Muir and Ralph Lauren were favourites. Pierre Cardin and Yves St Laurent also carried some cachet in the 80s and were more affordable.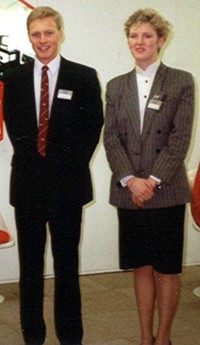 Next
Designers were much more visible and and even if their creations were out of reach for most, a few pieces could be bought to improve basics purchased more cheaply in a chain store. The popularity of designer labels also prompted the high street to up its game. George Davies started Next for women in 1982 and launched Next for men two years later, transforming the menswear retailer Hepworth's. Next defined 80s style for many people.
Other stores also improved their offerings in the 80s. Marks and Spencer updated its collections in the 80s and moved the brand more upmarket than previously.
At the same time up market sports labels fuelled a new street fashion, the 'cas' or casual look. Read more 80s casuals
What next?
The economic prosperity which fuelled some of the excesses of the 80s ended in recession at the and of the decade. 80s fashions later came to represent an era of greed and selfishness. The 80s can now be viewed with a little more perspective.
80s fashion: reference and further reading
The Fashion Source Book by Ame De La Haye, published 1987 (Macdonald Orbis)
The Look by Paul Gorman, published 2001 (Sanctuary)
The Official Sloane Ranger Handbook, by Ann Barr and Peter York, published 1982 (Ebury Press)
The Official British Yuppie Handbook, by Russell Ash, published 1984 (Ravette)
See also our article about 80s ties
How good did you look in the 80s?
If you have a picture of how you looked in the 80s, we would love to see it. We will publish the best ones on the site.
Please email pictures to steven @retrowow.co.uk (remove the space).
Comments on 80s fashion:
"That man is sooo hot in his glasses and tie." Nick Jenas
"hey iam lovin all the dresses frm lucie" lucie
"i love da 80s it rockin babyy" yockshmi glockenzpl
"this is as cool site i have got all about my 1971 money on here =] lol its cool" Tay
"I'm 16 now, and I love this.... I believe this was great time" Petra
"this website rocks!! i ♥ the 80's:)" megan
"I was 11 in 1980 and 20 in 1989, so 80s fashion was really the fashion of my teenage years. I don't remember ever seeing a real 'New Romantic' outside of Top of the Pops, although in the early 80s there did seem to be plenty of Skinheads and people into a Two Tone look. Having said that, I did once attend a church fete where I had a white stripe painted across my nose to look like Adam Ant. However, the fact that I was wearing my school uniform at the time sort of spoiled the look to some extent. In the early 80s the cool look for us teenage lads was a pair of grey Farah trousers and a diamond Pringle/Fred Perry or a plain Lacost V neck jumper....if your parents could afford one. This was matched with a pair of slip on shoes with tassels. In other words you aimed to dress like a middle aged man playing golf. I remember all the women (including my mum) craving a Princess Di hairstyle, and usually ending up with a poor copy! Talking of the fairer sex, the ladies seen to either wear a one piece jumpsuit with a belt around the waist (aqua seemed popular, oh and a deep pink) or some kind of summer dress, often white with red spots. They also wore lots of mohair sweater dresses, often off the shoulder. The women back then also seemed to wear a lot more make up than now."
"Around 1986 I got into the new rap music that was coming over from America. At first the look was a black flight jacket (with orange lining) a pair of turned up jeans and 'old skool' trainers (Adidas or Puma). You couldn't get a baseball cap anyway in London for about that first year. By about 87 you could buy not only baseball caps but really fake gold chains too. It seems strange now, but when we first started wearing baseball caps it was seen in much the same way that 'hoodies' are seen now. It was quite common to go to a pub and be told that 'You can come in, if you take that cap off'......how times have changed!" David McCann
"its really bad, im 10 and were doing a progect at school and i picked fashion and for the 80's this site has not helped me one bit" ciara
"I love watching television programmes from the 1980s. In 1980, shoulder pads are not evident. But by 1985 they are absolutely massive - literally! I loved the deely boppers, blonde-streaked hair, gel, mousse, 'Miami Vice' look and Acid House. In the '80s we tried to look to stylish. But we were far too brash to carry it off!" Andrew Brett
"at scholl im also doin a project but this site has helped me loads i hav filled a page just with this sites infomation its brillant XxthankyouxX" emma
"im also doin a project and i found dis site realy useful to. you have helped me soooooooooooooooo much!!!!!!!!!!!!!!!!!!! thank u!!!!!!!!! x" Aby x
"wow this is sooooo cool it tells you everthing" gabbaromoa
"i am 11 and am doing a project about britain after the war in this im doing fashion this website was great. i wish it would do the 90s and 1945-50 to." amy
"I have several 3/4 length 80's jackets. One is a black cashmere/wool blend Italian designer BYBLOS. Also one by a French designer Jean Claude and a trench raincoat also by the same designer. All size 8. I also have a real fur coat size 8. These are all in excellent condition being stored in my loft. I would love to for someone to wear them again. Regards Carole" Carole Colson
"I would like to read this in Spanish (I'm Spanish), it would be easier xD... It's very interesting, I love 50s, 60s, 70s and 80s... I think those were better epochs than the epoch we are living today, for several reasons." Kyra Barracuda Metal
"Hi, You could try getting a DVD for the original Fame TV series. Fame started the original craze for legwarmers. Also have a look at the recent 'Ashes to Ashes' series. Check out some of the pictures on this site. Also look in google images for '80s fashion'. There are some good pictures there." Retrowow
"Hi! i was wanting some advice.... my friend has an eighteenth birthday party and here in australia it's a big thing so she is putting the theme of retro to her party. but i think she's going with the kind of retro with the bright colourful leggings and leg warmers. personally if it was me i'd go with 70's disco/diva retro or 80's punk, but it's her choice... i was wondering if you could maybe give me a few sites to help with inspiration or maybe a list of clothing item's i could gather together or make myself...

thanks a bunch, em" emma n b
"this does not say much about womens fashion in the 1980s." poo
"Wot, no casuals?" andy sullivan
"i prefere fashion from my day luv from cleopatara.Xx
missin u tutunkamun.Xx" cleopatra
"i love the way the 80's dressed i wish we could dress like that now...." shalyn
"i luv the 80s site it rocks!!!!!!!!" yvonne
"i thort the 80s were gteart i was 18 teen in them times" maggiesmith
"'That man' is Steve Wright, one of the top DJs of the 80s (and I mean DJ in the Smashy & Nicey sense rather than the Pete Tong/Judge Jules way!) He started the 'mob radio' craze that we imported from the States where, instead of listening to just one person talking and playing songs there was a whole gang in the studio. His 'Steve Wright in the Afternoon' show on Radio One with his famous Possee was superb, check out some radio nostaligia websites for some exmaples, great stuff, great times, sadly no more..." Merv Payne
"Maaan, I wish I was around in the 80s ! The New Romantic style really really appeals to me ! I love it ! And the music is fantastic !!" Emmie
"Unlike now, no one looked to America for fashion or music in the early 80s, everything was British, even the heavy metal of the time was largely British( unlike the later prt of the decade when it was dominated by Americans. You had such a variety of youth cults to choose from: punk was in its death throes and only a few punks tried to keep the spirit of 1977 so the main cults to choose between were mod, skinhead, heavy metal, the New Romantics, rockabilly and old school teds. I opted for the New Romantic scene as it was the most musically interesting and the fashions were the best." Glenn A
"perfect! thanks" Sian King
"hi i am researching some information for my school project,britain since the war,and it has been really hard to find a website but then i saw this and it helped me alot.i could not find a better website than this! thankyou so much,i have a great project now!!!!!from lauren" lauren