Quadrophenia
Quadrophenia was made in 1979. It was a film set in 1964. Jimmy Cooper (Phil Daniels) is a Mod living in London. He has a dead end job as a post room boy for an advertising agency. His job is merely a way of financing his Mod lifestyle. It pays for his sharply tailored suits, his scooter and his pill habit. By night he goes out clubbing and goes to parties. He comes in after midnight; his parents cannot understand him.
Jimmy is obsessed with being a 'face', a fashion leader amongst the Mods. It is his position in the Mod movement that drives him. His loyalties to the Mod movement are questioned when a friend, returning from the army, turns out to be a Rocker.
The film's climax is a Bank Holiday trip to Brighton for the London Mods. They steal pills from the chemist to sustain their activities over the weekend, get their hair cut and buy new suits. Jimmy is upstaged by the ultra cool, Ace Face (played by Sting). The weekend ends in the inevitable punch up between Mods, Rockers and the Police. Ace and Jimmy are arrested.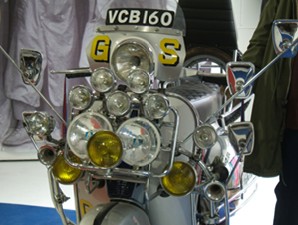 On his return to London, Jimmy's mind is a mess. May be he has had too many pills? He gives up his job and begins a downward spiral. He rejects the Mods' obsession with fashion. The final straw is discovering Ace Face, the fashion icon, is a bellboy at the Grand Hotel in Brighton.
Quadrophenia is now itself a period piece. Made in 1979, at the time of a rival of Mod styles, it captured the teenage mood of the late 70s, as well as the early 60s. The film shows the fashions and style of the earlier 60s era and illustrates the clash of cultures between the Mods and Rockers, as well as between the generations. Like other films made in the 70s, there was little attempt to make the street scenes authentic. You see 70s Cortinas, modern pedestrian crossings and people wearing 70s clothes in the background. The fighting in the Brighton scenes though, looked all too real!
Your comments
Retrowow

Established 2002
Vintage, retro & social history