60s suit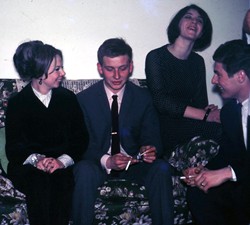 The classic 60s suit is very much in fashion. It is a sharp and sophisticated style: think of Sean Connery as James Bond, or Jon Hamm as Donald Draper in Mad Men. You can buy a modern suit that looks just like the style worn by Don Draper in Mad Men. Read our guide to getting the perfect 60s suit.
Trousers
Look for slim fitting trousers. In the early part of the sixties turn-ups were still popular, although the smart look was to dispense with them. Flat or pleated fronts were OK, but the overall look needed to be slim and trim. Trouser bottoms were narrow, 16 or 17 inches being a maximum. In the latter part of the 60s turn-ups and pleats disappeared altogether.
Jacket
Both 2 and 3 buttons styles were worn in the 60s, the three button style was more popular at the end of the decade and the two button look more so at the beginning. The important factor though was the width of the lapels: they were narrow to go with the narrow trousers and tie.
Colour
Most men went for fairly sober colours. The classic colour of the era was plain mid grey and this colour is also fashionable today. Navy was also popular. The fashionable pattern was Prince of Wales check. James Bond wears a suit in this pattern in Goldfinger. Pinstripes tended to be worn by older men in the sixties.
Accessories
White shirts were almost universal. The collars were also narrow. For an American look, popular with the Mods in the UK, go for a button down white Ben Sherman shirt. Add a skinny tie with plain or discrete patterns to complete the look
Finish the look with a pair of black shoes, Oxfords or Brogues for the classic look. Loafers will give a more casual look.
Your comments

"1960s suits for men were more colourfull than the 50s some men in the 60s wore white suits with pin striped ties and some men wore a different colour of jacket and normally the trousers will be white or black and not all men wore hats like the 50s." petticoatboy 23/02/2010
"After shopping online quite a bit for 50's and 60's clothing, here are a few pointers. Go to a tuxedo store and tell them you're in a wedding out of town, and your friend/brother (whoever) needs your measurements so they can rent a tux for you along with everyone else in the wedding party. Ask them if it would be possible to get your measurements taken; most tuxedo rental places will happily comply, especially if you are polite. Then, you have your exact measurements! Another option is if you actually own a particular jacket or pair of pants (style doesn't matter) that fit exactly how you want; compare everything as you shop to these items to avoid disappointment. Sizing (as far as Men's clothing is concerned) has not changed over the years much, and a good seller will list most of the measurements of their items on the auction (especially for suits and sport coats). If they don't, email them and ask! They want their items to sell, and should comply accordingly. If they don't, they don't deserve your money. With slacks, a good seller will also point out whether they can be let out in the waist or leg length; this can open up even more options for you!" drapedaddy 10/03/2010
"Thanks very for the link to my ebay site. Indeed i'm very surprised by what some sellers deem to be 1960s suits. I always pick up good quality 60s suits whenever i can find them, and always have a least a few in stock, so do come have a look!" Nathan at Style Service 15/06/2010