60s shirts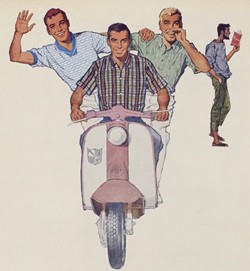 In the 60s shirts went from smart white and formal to 'flower power' in paisley and floral patterns. You could also get coloured shirts and shirts with striped and checked patterns. In the USA most men wore button down collars. Ben Sherman introduced the style to the UK.
Getting an authentic looking shirt today is easy if you follow our style guide.
White shirts
The most common type of shirt worn in the 60s was plain white. It had a short collar and probably the option of cuff link fastening. Double cuffs were also popular.
Nylon was new and everyone wanted drip-dry shirts that did not need ironing, but you could still get cotton shirts. Woolworths sold both cotton and nylon white shirts. The nylon ones cost twice as much.
Collar style
Although simple short collars were worn throughout the decade, there were a few variations.
The tab collar
The tab collar is a short collar with a rounded edge. It may have had a 'pin through' - a hole in each side of the collar, through which a pin would be fastened.
Arrow Shirts, an American brand, sold tab collars in 1959, but the fashion really took off in the early 60s. Tab collars were popular with younger men, particularly the Mods. The fashion lasted until the middle of the 1960s.
The tab collar had pronounced rounded edges. Shirts with only slightly rounded collar points were also popular.
Button down collar
In the USA button down shirts sold very well. They were worn as both formal shirts with a suit and tie and casual shirts to go with jeans. By the early 1970s (in the USA) button down shirts were passé.
In the UK button down shirts were much less common. Ben Sherman introduced Britain to the button down shirt around 1963.
Although originally from Brighton, Ben Sherman lived in America for several years. He took over Lancia, his father-in-law's shirt making business.
When Sherman parted from his wife he moved back to the UK. He set up his own business in Brighton and brought the classic Oxford shirt to the UK. It had a button down collar and a pleated back. Sherman added an extra button at the back of the collar and a loop to hang the shirt up with. These shirts were completed with a placket front, which is an extra layer of cloth through which the buttons fastened. This was the classic 'Ben Sherman' as the shirts became known.
Ben Sherman made shirts in plain, striped and check patterns, all with the distinctive button down collar.
Although a legend today, Ben Sherman shirts were a minority product until the end of the decade. He opened a shop in Carnaby Street in 1966. Sales increased from £600,000 to £4 million by 1970. [1]
Ben Sherman shirts were popular with Mods and later with Skinheads.
Mods wore the classic Oxford shirt sometimes with stripes. Skinheads went for tartan or gingham checks.
Large collars
By the end of the 60s fashionable men were going for wider collars, sometimes with rounded points. Patterns were also popular. They were often worn with identically patterned ties.
In 1968 you could buy shirts with paisley, floral or geometric patterns, as well as classic stripes.
However, most men did not rush out to buy this new look. They stayed with conservative shirts and waited until the 70s before embracing the new style.
Patterns and colours
In the early years of the 60s, a bold stripe was fashionable. By the mid-sixties the stripes were more subtle.
Brighter colours, oranges, pinks and mauves were available by the end of the 60s.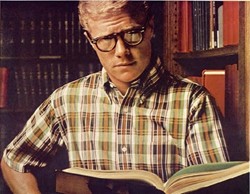 Casual shirts
In the USA bold checks were popular for casual shirts worn with jeans. An easy way to get a 60s' look today is to wear a bold check pattern with a pair of slim fitting jeans.
Getting the look today with modern clothes
Ben Sherman
Although Ben Sherman still make their classic shirts they do have a habit of messing with some of the details to fit modern taste. In the 90s they made their shirts looser fitting. Today you need to watch for collars that are too small. In the 60s the Ben Sherman collar was quite big by 60s standards. You could get two fingers in it with the button fastened and it had sharp points. Some Ben Sherman shirts today have collars that look too small.
References
[1] 'Buttoned up' in 'Live letters' published in the Daily Mirror 24 July 1970, page 16.
Your comments
Comments
No comments yet. Be the first!