Retro watering cans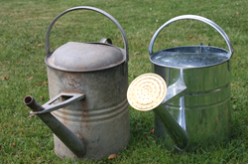 Galvanized steel, retro-style watering cans are the new trend.
My wife bought me the one on the right in the picture as a present. The one on the left has been in her family for years. We don't know the origin of it or how old it is.
I thought it would be interesting to compare the two. The design is similar. In both the handle is fixed. The lines on the side of the cans are similar. So is the angle of the spout and the way it is fixed. Unfortunately we don't have the rose for the old watering can - so we can't compare the roses.
The big difference you notice about the two cans is the weight. The old one is much heavier. It was made from thicker gauge steel.
It is hard to put a date on the old watering can, because they were produced to this design for many years.
The 1929 Harrods' catalogue lists galvanized watering cans (although they called them 'galvanised water pots'). They were supplied with a round rose for 2s 6d for one gallon, 3s 8d for two gallons and 4s 9d for three gallons.
From 1937 The Army & Navy Stores sold 'galvanised' watering cans 'best quality, extra strong with copper roses'. They were priced from 3 shillings 10 pence for a 1 gallon can, up to 5 shillings 6 pence for a 3 gallon can. You could also get galvanized watering cans with extra-long spouts from 8 shillings 9 pence (one gallon) to 10 shillings 3 pence (two gallons). The most expensive watering can would have been £25 in today's money.
Army & Navy sold specialist watering cans for orchids and chrome plated watering cans for indoor plants. They also sold galvanized cans with a graduated measure for weed killer.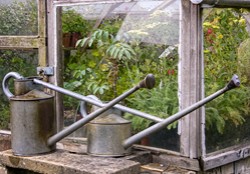 Haws watering cans
John Haws patented a design of watering can in 1885. He added two handles to the watering can. One at the top for carrying and one at the side for pouring.
Previous watering cans had one long handle which went from the bottom to the top of the watering can. They were known as French watering cans.
Haws' pattern of watering can has been used ever since. Today, the Haws company is famous for a design with a distinctive long spout. This design goes back at least as far as 1909, when a can with this spout is illustrated in Arthur Edward Haws' patent for a strainer in a watering can.
By 1937 Haws' range of cans was extensive. They made watering cans for indoor, greenhouse and outdoor use. The range started with a 'ladies' can' that held one quart (two pints). The complete range was:
Ladies' can - one quart - 5s 6d
Ladies' can - two quarts - 8 shillings
Propagating can (one round rose + one oval rose) - three quarts - 10s 6d
Greenhouse can (one round rose + one oval rose) - one gallon - 11s 6d
Garden can (two roses) - 1½ gallons - 13s 9d
Garden can (two roses) - two gallons - 16 shillings
Nursery can (one oval rose, one spreader) - 2½gallons - 18s 6d
Nursery can (one oval rose, one spreader) -3 gallons - 18s 6d
I wonder what lady gardeners from the 1930s thought about only having watering cans that could hold half a pint of water!
These Haws watering cans were not galvanised. They were supplied with a red Japanned finish. This was a highly polished lacquer finish. Galvanized metal steel watering cans were one shilling extra.
1950s and 1960s
Just after the Second World War it was hard to get a watering can at all. Frederick Wrottesley complained in a letter to The Times that he had tried in three different towns. He found that he could only order a one gallon can of inferior quality.[1]
In the late 1950s the plastic watering can came along. They were made from polythene. Some had a telescopic spout.
An innovative design was a plastic watering can by Ekco. It was made from a tall narrow plastic bucket, onto which a long vertical spout was fixed. You poured it by holding the can horizontally so water came out of the spout. You could buy one for 49s 9d in 1960. Prices quickly came down. You could buy a basic plastic watering can from Timothy Whites for 8s 11d (45p) in 1968.
By the 1960s a standard plastic watering can shape had emerged. The most common was similar to the metal watering can, but made from plastic. Geeco was a popular make. Other brands were Judge and Li-Lo.
Now it looks like we have gone full circle and re-discovered the vintage watering can.
References
[1] 'Watering-cans', letter to the Editor of The Times. See The Times 30 April 1946, page 5.
Add your comments
Comments
No comments yet. Be the first!