Handkerchief Vase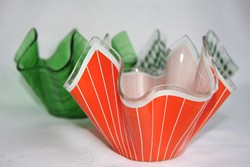 The Handkerchief Vase (or Hankerchief Vase) personified the 1950s' design aesthetic of fluid, asymmetrical shapes. It is this tendency towards flowing organic shapes that distinguishes 50s' design, both from the Art Deco period that it followed and the 1960s. The original Handkerchief Vase by Venini in Murano, Italy embodied this principle, later copies by Chance Glass in the UK, do not. However, they represent the kitsch aspect of fifties' design that makes it fun.
Venini Handkerchief Vase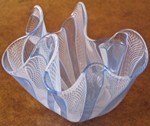 The original 'Vaso Fazoletto' or 'Handkerchief Vase' was designed by Paolo Venini and Fulvio Bianconi in 1949. Throughout the 50s, they produced an enormous variety of designs. There were striped patterns; plain patterns combining two different colours, such as red and white; there were spiral patterns and fine woven patterns. Some were gigantic, others were very small.
The success of the Venini Handkerchief Vase lead to imitations by other firms. There were several firms in Italy that produced similar designs, but in the UK, Chance Brothers was the most prolific manufacturer of this style of glassware.
Chance Brothers Handkerchief Vase
The Chance Brothers Handkerchief Vase was a UK version of the Italian design. Their designs took the handkerchief metaphor to its logical conclusion. Many resemble a polka dot, striped or gingham hanky. There are also some transparent versions and psychedelic or Pop Art designs from the 1960s.


Chance Brothers Handkerchief Vases were made from 1957 to 1981, when the factory closed.
Pinstripe is one of the oldest designs dating from the late 50s, whereas Gingham was only made from 1977 and was manufactured after 1981 by Fiesta Glass.
Buy Handkerchief vases
Like for most collectables, eBay is a good source. You should expect to pay upwards of £100 for a Venini Handkerchief Vase in perfect condition. Italian copies from other Murano factories sell for £50 to £100.
Chance Glass vases sell for £10 to £20. They are quite common, so be very fussy about condition: no chips or damage. It is not difficult to find mint condition vases.
Look for:
More on Handkerchief Vases
Visit www.chanceglass.net for more information about Chance Glass Handkerchief Vases.
Books about Handkerchief Vases
Chance Expressions: The History of Domestic Glassware from Chance Brothers
20th Century Factory Glass
Your comments on the Handkerchief Vase

"I adore Chance handkerchief vases! Last count was around 25, I have two 7", one amber tinted, one grid, and the rest are 4", including some pinstripe (corden), bandels, gingham, polkadots and tinted. They were quite common on car boot sales once upon a time, sadly not so much now!" Jackie Mann 31/03/2011
"I like Jackie Manns comment. I have only discovered Chance handkerchief vases by accident. I bought one in an op shop, and as a 60's collector of plastics had never seen one of these vases before. I am hooked too, but all o/seas. Mine is a lge yellow pinstripe. Cheers from Rosie" Rosie 13/11/2011
"To Rosie, there is a website all about chance glass http://chanceglass.net/, there are also books available to help you identify different vases, hope this helps! Jackie Barton (was Mann)" Jackie Barton 19/01/2012
"I would .like for 3 pieces of Murano glass I bought in 1994" James Wilson 29/10/2014
"I'm an avid collector of Chance glass handkerchief and posy vases too. The smaller ones 4 - 5½" versions are called Posy vases and the 7 & 8" versions are called Handkerchief vases. I have over 200 of them and try to keep them all in one room but I do like to display them so a few are in the living room so that I can look at them all the time. That's why I collected them in the first place, after all! I am proud to own most of the rare ones and also have a few unique vases too which are one offs, either experimental vases or 'friggers', that is what they called the vases that the workers made in their spare time or at the end of the day." Gary MacDonald 24/04/2021