Shops and shopping from the past
Shops and shopping from the past
High streets have changed since the 60s. We take a look at a few images of shops and shopping from the past. In the 60s and 70s a modern, cutting-edge shopping centre was essential to towns small and large. The prevailing style was modernist: square buildings with flat roofs. Enjoy our brief trip down memory lane!
Boots the Chemist, Washington, 1960
This shop is still Boots, although the window has changed quite a bit since 1960. It is at 12 Arndale House, Victoria Road, New Washington. The building is a typical modern shop from the 60s.
St George's Shopping Centre, Preston, 1970
This shot from around 1970 shows St George's Shopping Centre in Preston, Lancashire. Opened in 1966, St George's had this colourful mural. Unfortunately, it has been subsequently redeveloped in 1981 and again in 1999.
Woolworths Record Department, 1970s
Woolworths has only recently disappeared from our high streets. In the 70s and 80s it was a major retail force. The record department was a long-standing favourite for teenagers. Both Woolworths and W H Smith sold music in a big way in the 70s and 80s.
Brighton Square in Brighton
Thanks to a reader we know this is Brighton Square in Brighton's Lanes. The pictures appear to be taken in the late sixties. It is a pretty new development. There looks to be a bar called Vasso selling Whitbread on draught and there are some small shops, called Plus One and Aqua Sprite.
In an epsisode of Public Eye, Frank Marker (Alfred Burke) pops into a trendy man's shop in Brighton Square and comes out with a paisley shirt for 3 guineas. After thinking about it, Marker decides it isn't his style and returns the shirt to the shop. Later in the same episode, he has a beer in the bar on the roof.
Sadly it has been re-developed losing much of the original character.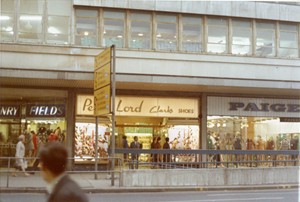 Corporation Street, Birmingham, 1970
Corporation Street in Birmingham in 1970. You can see Peter Lord shoe shop and Paiges (ladies fashion).
Shops at Rustington
This row of shops is at Rustington, a small seaside town on the Sussex coast. You can see a branch of Halfords, Woolworths and some local shops, what looks like an estate agent, a jeweller, a fashion shop called Edlows and Jordan and Cook, a local surveyor.
Add your comments