Getting ready for decimalisation in the UK
Getting ready for decimalisation in the UK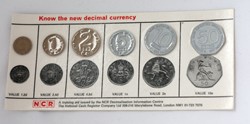 In the run up to Decimalisation on the 15 Febraury 1971 some retailers went into panic mode to update their tills, whilst others had planned carefully for the event.
NCR (National Cash Register) was in the forefront of helping businesses to convert. NCR produced this early mock up of the decimal coins in the late 1960s. It was intended to serve as a training aid to shopkeepers and staff.
The coins are plastic, but are the same size and shape as the real thing. By the time this set was published, people would have probably already seen the 5p and 10p coins, which were released in 1968.
NCR took out a series of adverts in the press encouraging retailers to get in touch with them from 1967 to talk about decimalisation. They offered to convert existing cash registers and accounting machines.
Many small shopkeepers left decimalisation almost to the last minute. NCR's helpline received thousands of desperate calls in January 1971.
Most of the callers found that they had to fork out £100 for a new cash register. It was too late by then to convert the old one. [1]
By this time NCR had already given 4,000 seminars about Decimalisation. They had also converted or replaced 350,000 cash registers out of a total of 610,000 in the UK.
BBC Decimalisation record
Although everyone had to get to grips with decimal currency in 1971, for retail staff it was doubly difficult. They had to be able to take old money and give change in decimal or vice versa. They also had to be able to answer customers' quesions about the new money.
The BBC started a series of programmes aimed a retailers towards the end of 1970. They broadcast four programmes on Radio 3 at 7pm. They were aired on Fridays between 11 December 1970 and 8 January 1971, with repeats on Tuesdays between 12 January and 2 February 1971.
The BBC also produced this record in 1970, 'Decimal Points'. It was intended to be played to staff in retail businesses.
References
[1] 'A sudden conversion', published in The Times on 20 January 1971, page 18
By Steven Braggs, January 2021
Read more
Add your comments