70s Recipes - Austrian Torte
I first came across Austrian Torte in the early 70s, when my cousin made it for our family Christmas celebration, having been given the recipe in her school cookery class.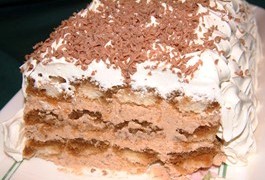 6oz/150g butter or margarine
6oz/150g sifted icing sugar
1 large egg beaten
1oz/25g of mixed peel (optional you could use dried mango or pineapple if you prefer or leave it out entirely)
3oz/75g cooking chocolate plain or milk (you could even try the recipe with white cooking chocolate)
¼pint/150 ml of hot water
2-4 level teaspoons of coffee power (depending on your taste)
28 sponge (boudoir) finger biscuits
To decorate:
½pint/300ml double cream
1 crumbled Flake bar or grated chocolate
Convert:
Dissolve the coffee powder in the hot water and leave on one side to cool a little. Cut a piece of greaseproof paper and use to line the base of a 2lb loaf tin.
Beat the butter until soft and gradually beat in the sifted icing sugar. Add the egg gradually and beat well so that the mixture does not curdle. Then add the mixed peel, if using. Break the chocolate into pieces and melt them in a bowl over a pan of hot water (or place chocolate in a dish suitable for use in a microwave and microwave on high for 30-40 seconds this technique was obviously not in the original recipe). Stir the chocolate in the mixture.
Dip the sponge finger biscuits into the coffee so that they soak up some of the liquid, but do not let them become too saturated. Then place them in the base of the tin to form a layer, cutting to fit, if necessary. Spread some of the chocolate mixture on top, then add another layer of coffee-soaked biscuits. Add another layer of chocolate and so on until the chocolate mixture is used up. Place the tin in the refrigerator to set for two to three hours. It can also be frozen for up to a month at this point.
To serve: run a knife around the inside of the tin and turn the torte out onto a suitable serving plate. Whip the cream so that it holds it shape and either pipe or spread it over the dessert. Finally sprinkle the crumbed Flake bar over the top.
Serves 6
Note: this recipe contains raw egg
Retrowow

Established 2002
Vintage, retro & social history