1960s & 1970s: Gazpacho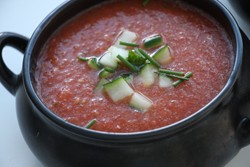 Gazpacho is a cold soup made with tomatoes, cucumber and onions.
It was becoming popular in the 1960s and featured on the menu of the Savoy Grill Room in 1969.
Gazpatcho was descibed in cookery books with foreign cuisine recipes, such as Round the World Cookery by Marguerite Patten (1964) and Encylopedia of European Cooking by Musia Soper (1962).
In the 1970s Gazpacho also featured in more general cookbooks. It was particularly popular after the hot summer of 1976.
Electric blenders were popular in the 1960s and this recipe is easy to make with a blender. The traditional way was to pass the chopped ingredients through a seive, which can be quite time-consuming.
Ingredients:
1lb (500g) tomatoes
1 cucumber
1 onion
2 cloves garlic
1 tablespoon olive oil
1 green pepper
lemon juice
Serves 4
Preparation time: about 30 minutes. You will need to chill the soup for 4 to 8 hours, preferably overnight.
1. Chop the tomatoes and cucumber into small pieces.
2. Peel and chop the onion and the garlic cloves.
3. Chop the pepper and remove the seeds.
4. Put about half the ingredients into the blender with small amount of water (I found my blender was too small to take all the incredients in one go).
5. Blend until liquid and pour into a large jug.
6. Repeat for the other half of the mixture.
7. Add a one to two tablespoons of olive oil to the mixture and stir in.
8. Add salt and pepper, if desired.
9. Add a small amount of lemon juice and stir to mix.
10. Chill in the fridge for at least 4 hours. If you can, chill overnight, this will develop the flavour of the soup.
11. Chop up some cucumber into small cubes to use as a garnish (you can also add a few chopped chives, if liked).
12. Pour the soup in to bowls, add the garnish and serve.
Suggestions
For a spicy flavour add a few drops of Tabasco.
Add your comments