Clarks Desert Boots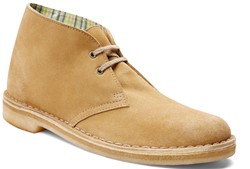 Nathan Clark designed Clarks Desert Boots in 1949. His idea was based on a boot that officers of the British Eighth Army wore in Egypt during the Second World War. They had them specially made for them by local tradesmen.
The Clarks Desert Boot had a simple modern style with plantation rubber crepe soles and just two eyelets for laces.
The simple modern style of Clarks Desert Boots appealed to the Mods in the 60s. They could be worn with a suit or with a pair of Levis for a more casual look. Ideal for clashes with Rockers on Brighton Beach, you might think...
Desert boots became mainstream fashion wear in the 60s and 70s. The Clarks Desert Boot was also sold to children as well as adults in the 60s.
Clarks Desert Boots were copied by other brands. Marks and Spencer introduced desert boots as part of a revamp of their men's fashion department in 1970. The look combined a navy blazer, Scottish tweed trousers, a button down shirt and a silk paisley scarf. The M & S desert boots cost 55s.
The fashion came full circle in 1967 when the Deputy Leader of the House of Lords, Lord Shackleton, came back from Aden wearing a pair of locally made desert boots. He returned to Aden with orders from several Government ministers for pairs of desert boots. Was Wilson's Cabinet going Mod?
This incident illustrates the strong link between clothes worn by the upper classes and working class youth fashion. Ministers were probably unaware that similar boots were available much closer to home.
Clarks reintroduced the Desert Boot a few years ago, as part of the Clarks Originals range which also includes the 60s classic, the Wallabee. They have remained in fashion ever since, although few Clarks stores seem to stock the Originals range these days, however, you can buy them online, see www.clarks.co.uk/Originals
See also
Add your comments on Clarks Desert Boots
Retrowow

Established 2002
Vintage, retro & social history