Bass Weejuns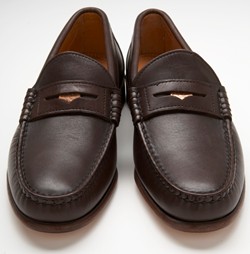 The Bass Weejun was based on an original Norwegian loafer. Bass introduced it to conservative US Ivy League students. In the 50s, Ivy League fashion became hip. Leading jazz musicians adopted it and the Rat Pack wore it.
Ivy League came to Britain in the 60s. It was a late arrival to the Mod scene around 1965 to 1966.
The Bass Weejuns were also known as 'Penny Loafers'. You could fit a penny into the slit on the front of the shoe (right).
Originally a casual shoe, the Bass Weejun also looks good with a smart pair of slim fitting trousers.
Buy Bass Weejuns
These G H Bass Larsen loafers, left, are the real deal. They are available in most sizes from Amazon. It is quite difficult to find these shoes in a high street store outside of London.
Retrowow
Your guide to vintage and retro