Post War homes and architecture
The architecture of the 50s and 60s has long been despised. Now, however, it is being rediscovered and appreciated by a new generation. For some though, fifties and sixties buildings are still considered ugly eyesores.
Homes from the 60s and 70s

Modernist principles were followed through into the design of domestic housing. However, for the most part builders watered down the ideal and compromised on a design that included some modern elements such as flat roofs and large windows, but was more conservative.
Icons or eyesores?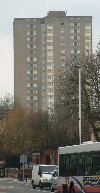 60s architecture draws strong passions in many people, whether it is an urge to pull it down or preserve it.
60s construction
Whilst Unit 4 sang about 'concrete and clay', much of the country was transformed in the 60s.
The Tricorn, Portsmouth
The Tricorn Centre, Portsmouth was a daring modern shopping centre built by the Owen Luder Partnership in 1966. It used exposed concrete in a style known as brutalism. Unfortunately this building was demolished in 2004. Have a look at our final reflections.
Tricorn, Portsmouth 1966-2004
Get Carter Car Park
The Trinity Square Car Park at Gateshead, featured in both 'Get Carter' and 'Whatever happened to the Likely Lads'. See it now, while you still can...