Reflections on the Tricorn
Get Carter Car Park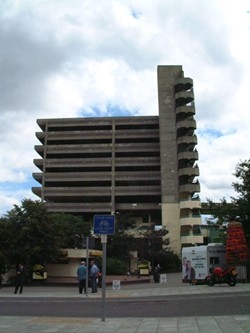 The famous Get Carter Car Park, in Gateshead is sadly no longer standing.
The Trinity Square Shopping Centre and Car Park was designed and built by the Owen Luder Partnership at the end of the sixties. Like other Owen Luder buildings, it is an exemplar of the Brutalist style. Brutalism comes from the French term, béton brut or raw concrete. It was not an attempt to offend the public, but to push the boundaries of design in building work.
The style draws strong passions for and against. However, its lack of favour with the public means that few Brutalist buildings survive today and many of Owen Luder's designs, including the Tricorn Centre in Portsmouth, have already been demolished.
Get Carter
The Trinity Square Car Park had a starring role in the cult British gangster film, Get Carter, staring Michael Caine. The Car Park featured in two scenes.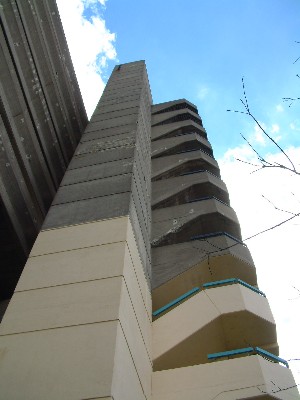 There is a room on the roof of the Car Park where Cliff Brumby (Bryan Mosley, also known as Alf Roberts from Coronation Street) met Jack Carter (Michael Caine). He talked about his plans to turn it into a restaurant. It was unfinished in 1971, and remains unfinished today. Later Jack Carter, threw Cliff Brumby over the staircase from the same car park.
The film gave Newcastle and Gateshead a feeling of being on giant building site, with some new buildings and some old ones condemned and awaiting demolition. The Trinity Square Car Park represented the future.
The DVD of Get Carter, left, is well worth watching. It contains a commentary on the filming and the locations.
Whatever happened to...
Less well known is the building's role in 'Whatever happened to the Likely Lads' in 1973. Bob shows Terry how much his home town has changed since he joined the Army. The new Car Park is one of the sights of the new Gateshead.
The part-finished nature of Newcastle is also exploited in 'Whatever happened to the Likely Lads'; the closing credits show the remains of a demolished house.
More on Trinity Square Car Park
See www.getcarter.xyz for more about Get Carter film locations.
See also The Architects' Journal - Luder's Get Carter Car Park saved from bulldozers